"An Entrepreneur's Spirit. A Winner's Attitude. T&T Radio Personality Says He's Ready to Ace It in the Soca Biz"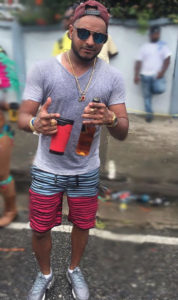 A well-known radio personality is taking the bull by the horn in 2018; Not in the literal sense, but do know that there'll be no playing around when it comes to his delivery ahead of the Carnival 2018 season in Trinidad and Tobago. Smooth is back this year, after essentially wetting his feet in the business of Soca three years ago. He'd been following up pretty well, but in 2018, the young professional who's probably best known for causing a stir with the hit urban radio talk show, "Make Up Or Break Up" says he's about to pounce into the spotlight.
He's never failed at anything he's challenged himself to. In fact, more than anything else, Randy Mansoor, the young personality most now call, Smooth, considers himself a true entrepreneur. From building a brand that's among the strongest on the FM dial, to cementing himself in the advertising business and further to that, securing a top tier horse in the sport of horse racing, Smooth understands the importance of sticking to what his heart desires and consistently delivering his very best.
Ahead of Carnival 2018, the young entertainer teamed up with Kerry John and with a well penned single that's now making inroads across the airwaves, the road to success in the music business, is being carefully maneuvered. "I plan on giving this the attention it deserves- setting myself apart from everyone else and carving a niche Soca product that's not only great on the ear, but visibly attractive," said Smooth. He believes in the power of marketing and already, he's employed several strong digital media tactics, inclusive of social media takeovers, that have proven effective. "We live in a digital world. Radio has the power to reach a mass audience; That can't be denied, but when it comes to the online world, there's no denying the power of social media, YouTube, email marketing and other similar avenues," he said.
The new single, "Self", is already working its way into the hearts of J'ouvert lovers. The song was produced by young producer, Yung Seeche and mastered by Andrew Denny. "This song is all about relying on 'self' for a good time in Carnival," he explained, adding, "We're leaving all the negative vibes at home when we decide to step out next year. If a friend or a partner cancels on you, still head out the door, party by yourself and have a great time, because all you need is 'yuhself'," said Smooth.  He's very serious about it too. He's a firm believer in self-reliance, explaining that he himself is a loner most of the time. "I have no problem heading out to any event by myself. In fact, I enjoy my own company," said the new artiste.
Smooth has another single set for release pretty soon. "I'm coming hard. I have no intention of stopping on this journey. It's something new for me but I believe I have what it takes to enjoy success in this arena too," he said with a smile. For the latest on what's happening with Smooth, connect with him on Instagram, Twitter and Snapchat @trinimrsmooth and on Facebook @Randy Anim Mansoor.