VP Records Sponsors Child at Rhythms of Africa Event
'Carnival' from "Havana Meets Kingston" to be
Featured in the Evening's Program
The journey that began at the Miramar Cultural Center returns for two shows, 3 PM and 8 PM, following capacity-crowd performances at Miami's Arsht Center, Ft. Lauderdale's Parker Playhouse, and Broward's Bailey Hall. Rhythms of Africa is a musical journey that describes the movement of ancient rhythms sprung from the souls of vibrant cultures and carried by hand and heart from Africa to the Caribbean, South America, and the New World. Within this special evening, they will have a Cuba segment in which the song "Carnival" by Mista Savona featuring Randy Valentine and Solis will be included. The song was the first single on "Havana Meets Kingston", the album released on VP Records in November 2017. VP Records will also be sponsoring a child to perform as a drummer.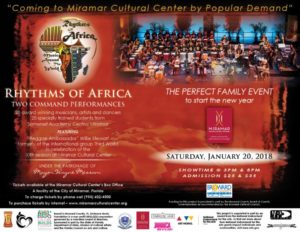 "Reggae Ambassador" Willie Stewart, former lead percussionist and co-director of the international group Third World, will demonstrate the transformative power of music again, showcasing the talents of 25 musical novices from Somerset Academy who have trained rigorously throughout the autumn. Included in their preparation are sessions with professional musicians, singers, and dancers to provide not only context to the music, but additional on-stage excitement to captivate audiences and bring them to their feet.
This presentation of the show will feature guest artists Khristine Alicia ("The Voice of Culture"), Saxophone Legend Jesse Jones, Maestro Leroy Romans on keyboards, Nicole Yarling ("Lady of Blues Violin"), "The Voice of Sweetness" Selena Serrano, and many others. Audiences should be prepared to participate — sing, dance, clap, and turn the entire auditorium into a single stage.
The program is a presentation of Embrace Music Foundation, a Broward-based non-profit corporation with a mission to restore, preserve, and fortify the impact of music — education, appreciation, and performance — in schools and communities, and to amplify its role in the development of children and families. Support for this program and performance has been provided by the National Endowment for the Arts (NEA) through Miramar Cultural Center, Broward County Cultural Division, the Jamaica Tourist Board, VP Records, Lasco/Moneygram, and many private individuals who share the organization's mission and goals.
"People who watch these kids during the workshops see their incredible development, so that in no time at all, when the performance comes around, their whole lives have changed for the better," Willie Stewart notes. "Music is the soul of humanity, the universal language, timeless and eternal — shouldn't it be central to our children's lives? It's all about the music. It's all about the children."