PRESS RELEASE: Morgan Heritage's Golden CBD Water to Host Pre-GRAMMY Party in New York City!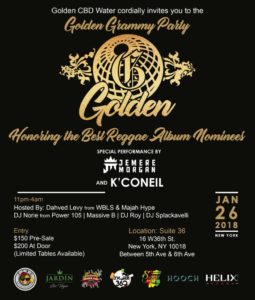 In yet another unprecedented and historical move, 2016 GRAMMY award winning and 2018 GRAMMY nominated Morgan Heritage's companies Golden CBD Water will host a pre-GRAMMY event. The high profile GRAMMY festivities such as Clive Davis' annual party have become a staple of the music filled events ahead of the coveted ceremony, but the first ever in NY honoring the Reggae nominees.
Notables from all facets of the Caribbean diaspora will intertwine, mix and mingle with mainstream media, sports figures, politicians and business figures to not only celebrate Morgan Heritage's achievements, but to honor all nominees and reggae as a whole.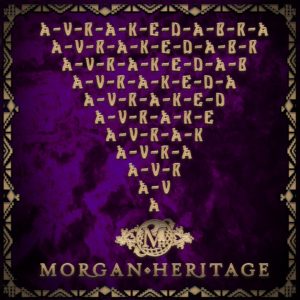 "The Reggae genre and Caribbean music on a whole is one of the most influential musics on the planet. We're grateful for the Recording Academy for including our genre every year since the mid 80's in the Annual GRAMMY Awards. We believe it's our duty to bring our community together as a whole during GRAMMY week and honor the nominees for their achievements and amazing contribution to the genre for that year. Just like all the other genres that are included in the GRAMMY Awards Ceremony. We hope that this will be the first of many Golden Grammy Parties for years to come. Congrats again to all the nominees that are up for the Best Reggae Album of The Year. Best of luck to you all." – Golden CBD Water
The Golden GRAMMY Party will be hosted by media personality Dahved Levy from WBLS and famed comedian Majah Hype, the pre-GRAMMY party will feature special performances by Jemere Morgan and K'Coneil, with music provided by DJ Norie of Power 105, Massive B, DJ Roy and UK's DJ Splackavelli. With an anticipated red carpet which will boasts a gamut of stars, the pre-GRAMMY party will take place on January 26th at Suite 36 located at 16 W36th st, New York. Admission $150 Pre-Sale, $250 at door with a number of limited tables are available at www.fanlink.to/goldengrammyparty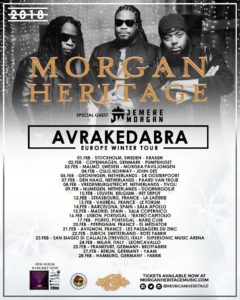 GRAMMY award-winning Morgan Heritage will kick off their Avrakedabra European tour February 1stin Stockholm, the capital of Sweden. The European Winter Tour, will see the band perform in several cities throughout Denmark, Norway, Netherlands, Belgium, France, Spain, Portugal, Italy, Switzerland and Germany.