VP RECORDS PARTNERS WITH BRT FOR 2018 TOUR
VP Records is proud to announce its partnership with Beach Road Trip Weekend (BRT) for their 2018/2019 tour. Inspired by Caribbean music and culture, BRT is the premier all-inclusive party weekend in the U.S. and Caribbean. VP Records and BRT joined forces for the first time November 2017 in Florida with a DJ contest and influencer campaign around the launch of the "Strictly the Best" compilation albums. The partnership will continue in The Dominican Republic in May, Atlantic City in July, California in September, back in Florida in November and Turks and Caicos Martin Luther King weekend in January 2019.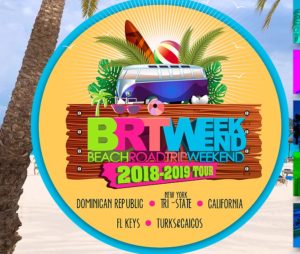 The partnership will include VP branding, promo items and themed parties and after parties such as V Maui Wowi: Beach Bonfire, Xtreme Wet N Wild "Water Party", the BRT Glow Wonderland, the Jouvert Breakfast Party and the BRT "All White!" Grand Finale. Each party brings something unique and different to the overall experience. The DJ contest and influencer campaign will also continue. Last year, DJ Titan Boyaka Smash won the contest after placing 1st with the best party mixtape featuring tracks from Bunji Garlin, Alkaline, Patoran King and more. Instagram influencer, Official Dydy attended each event, reporting the action and fun to her large following of 300K+. This resulted in a high level of engagement and media impressions.