Jesse Royal's Debut Lands #1 on Billboard's Reggae Album Chart
JESSE ROYAL'S LILY OF DA VALLEY
DEBUTS AT #1 ON THE BILLBOARD REGGAE CHART
U.S. Tour Kicks Off In November to Support New Album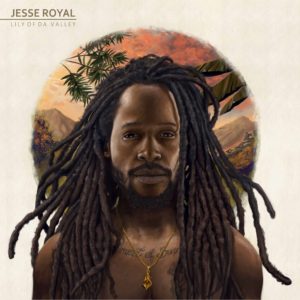 Jesse Royal's Lily Of Da Valley has debuted at #1 on the Billboard Reggae Album chart. In addition, the album impressively hit #131 on the Billboard New Album Top 200 chart and #36 on the Independent Albums chart."Lily Of Da Valley (released October 6, 2017 on Easy Star Records) is the highly-anticipated debut album from the young Jamaican star. Jesse embarks on his U.S. tour in November, including a feature spot at Rootfire At The Park, before joining Collie Buddz for west coast dates in December.
Jesse Royal's music carries an impactful message built to resonate with the millennial generation and beyond and is proof with his #1 debut. Recording for Lily of Da Valley took place across many studios, from the Applehead Studio in Woodstock, NY, to the legendary Tuff Gong and Big Yard Studios in Kingston, Jamaica. The source material for the album arose organically, with Jesse keeping loads of hooks, melodies and lyrics on hand until he was ready to come with a full album's worth of strong songs. This liberating approach of patience guarantees the new release has no forced filler. Studio assistance from the help of studio mastermind Llamar "Riff Raff" Brown, Kareem "Remus" Burrell, Phillip "Winta" James and Kurt White helped aid Jesse's vision of pushing the genre forward while still paying respect to those who paved the road prior, showing the youth that "there is a space for them to be creative in music."
"Easy Star Records is honored to be working with Jesse Royal and thrilled that his album is being so well received," says Easy Star CEO Eric Smith. He adds, "We are just getting started in exposing Jesse to the world and are excited to keep building from here. At Easy Star we take pride in breaking artists globally, whether they are from the Caribbean, the States, or Europe."
Jesse is about to tour the U.S. showcasing songs from the new album. More tour dates are already planned for early 2018 and soon to be announced. Press accolades for Lily of da Valley have been pouring in from a diversity of media outlets.
"Jesse Royal's voice [is] loud and clear as a modern day descendant of reggae's finest."
– Mass Appeal
"Reggae singer Jesse Royal helps push the rich musical lineage of Jamaica forward on Lily of Da Valley. He worked with producers Llamar "Riff Raff" Brown, Kareem "Remus" Burrell, Phillip "Winta" James and others to create a sound that combines revolutionary messages, soulful harmonizing and body-shaking beats."
– Vibe
"Jesse Royal has it going on! "Always Be Around" has it all: lyrical hooks, infectious melody, wonderful harmonics and Royal's lilting voice. "Always Be Around" is the best reggae song I have ever reviewed. It has hit written all over it, assuring Jesse Royal's place as reggae's new star."
– The Huffington Post
"Jesse Royal has been a star in the making for several years now, but Lily Of Da Valley serves notice that his time has come at last."
– Echoes (5-Star Review)
Tour Dates:  
Nov 04    – Shakas Live – Virginia Beach, VA
Nov 05    – The Grey Eagle – Asheville, NC
Nov 06    – Vinyl – Atlanta, GA
Nov 07    – The High Watt – Nashville, TN
Nov 08    – New Brookland Tavern – West Columbia, SC
Nov 09    – The Blind Tiger NC – Greensboro, NC
Nov 10    – Rootfire at the Park – Cocoa, FL
Nov 28    – The Federal Underground – Long Beach, CA
Dec 03    – The Catalyst – Santa Cruz, CA *
Dec 07    – The Independent – San Francisco, CA *
Dec 08    – The Independent – San Francisco, CA *
Dec 09    – Mateel Community Center – Redway, CA *
Dec 13    – Venue – Vancouver, Canada *
Dec 15    – Neumos – Seattle, WA *
Dec 17    – Wonder Ballroom – Portland, OR *
* w/ Collie Buddz