The Dubplates Reach #1 on Billboard Reggae Chart
SOUTH CAROLINA MAVERICK REGGAE BAND,
THE DUBPLATES, REACH NUMBER 1 ON THE
BILLBOARD REGGAE CHART THIS WEEK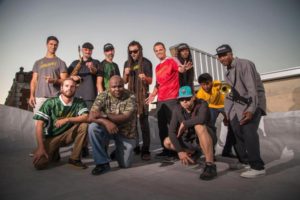 ˈdəbplāt/
noun
plural noun: dubplates
an acetate recording disk, typically one featuring a dub version of a reggae song that is not yet on general release. The hottest tunes could be heard on dubplates prior to their official release.
Charleston, South Carolina- The Charleston, South Carolina genre benders, The Dubplates have achieved the monumental feat of reaching number one this week on the Billboard Reggae Chart. The Southeastern mavericks, rose to chart-topping heights with BOX FULL OF STEEL, which climbed to iTunes #4 U.S. Top Albums in the first weeks of its release which came out June 23, 2017 and since have made waves in South Carolina by being the first reggae breakout band.
With an international attraction for notable collaborations and a diverse skillset, the gents showcase their talents on the entire BOX FULL OF STEEL album which was written and arranged by Big Hair (David Brisacher) and Daddy Brady (Brady Waggoner), who together created the original riddims. Big Hair also engineered and mixed the album charter and gathered all-star collaborations with heavy hitters, King Yellowman, Junior Reid, Mix Master Mike (Beastie Boys), Future Fambo, Elephant Man and Zumjay. The album is produced by Big Hair and Daddy Brady's own Chalicetown Records and distributed worldwide by VPAL Music.
Their first release from the new album was a powerful get-off-your-seats and dance single, "UH HUH!" with a guest feature with Yellowman. The song was released alongside a brilliant animated lyric video, produced by none other than Daddy Brady himself.
The Dubplates live shows deliver an impactful deliverance of multiple horns, percussions and guitar performances. The band houses seven vocalists, along with a steadfast bassist, catchy DJ beats and electrifying keys, all a recipe for national chart-topping attention. The band pilots Big Hair (David Brisacher) – sing-jay/vocalist and Daddy Brady (Brady Waggoner) – guitar/vocals/DJ, along with varied members Papa Robbie (Robert Ellington) – vocals, Andy Masker – sax, DJ Trail-Mix (Jerry Tiller) – turntables, King Sing (Ryan Becknell) – guitar, Charlie Coconuts (Charlie Guss) – bass, Professor Spice (Peter Wilborn) – drums and Shawn Legree – vocals and Dub Denizen on percussion, with a live performance that echoes traditional Jamaican Reggae and Dancehall sounds.
Drawing from traditional reggae riddims, to easy-listening dancehall vibes, silky mixes and gritty afro-funk beats, the eleven-pack have paved a path for themselves and are a force to be reckoned with. Earlier this year, the band performed at the Triple S Invitational; the largest pro-kiteboarding event worldwide, with other artist like Methodman, Redman, Ky-Mani Marley and Mixmaster Mike, who is the current opener for the nostalgic heavy metal superstars, Metallica, for the Metallica WorldWired Tour.
They've also graced the stage and/or worked with the likes of Damian Marley, Steel Pulse, Flavor Flav, Sean Paul, Big Boi (Outkast), The Wailers, Mix Master Mike of the Beastie Boys, Stephen Marley, Girl Talk, Too Short, Beenie Man, King Yellowman, Chali2na & Cut Chemist of Jurassic 5, LMFAO, Pretty Lights, B-52s, DJ Logic, Tanya Stephens and Elephant Man. Due to their high-demand, the band was even called to perform for Virgin Group mega-billionaire founder, Sir Richard Branson.
To purchase and/or hear the album, go to: https://VPAL.lnk.to/DubplatesBFOS. For more information on The Dubplates, please visit: TheDubplates.com.