Tropicalfete's Author Connecting In Celebration of Caribbean Heritage Month with Barnes and Noble
Authors Connecting is a program designed to emphasize the importance of literacy and how culture can influence education, as well as one's world view. The program is targeted to interact with children and celebrate our great Caribbean culture. It will take place on Saturday, June 21st 2013 at 3:00 PM Park in Slope Barnes & Noble 267 7th Avenue, Brooklyn, NY, 11215.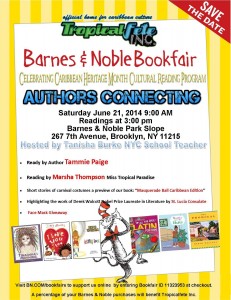 Hosted by Tanisha Burke NYC School Teacher
Read by Author Tammie Paige
Reading by Marsha Thompson Miss Tropical Paradise
The Short stories of Carnival costumes a preview of our book: "Masquerade Ball Caribbean Edition". It highlights the work of Derek Walcott Nobel Prize Laureate in Literature by St. Lucia Consulate Face Mask Giveaway.