World Music Caribbean Forum April 18, 2015
World Music Promotions
Presents
World Music Caribbean Forum I 2015
New York, New York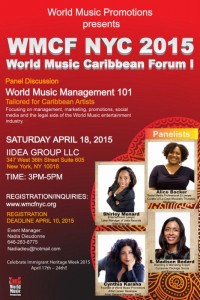 Professional Development
World Music Management 101
Tailored for Caribbean Artists
IIDEA Group LLC
347 West 36th Street, Suite 605
New York, NY 10018
Saturday April 18, 2015
TIME: 3PM-5PM
Registration Deadline April 10, 2015
http://www.wmcfnyc.org/registration-form.html
"Women doing it for themselves"
Panelist: Alice Backer, Social Media Professional, Lawyer, Curator of La Caye Musically Thursday & Moderator of this forum; Shirley Menard, Entertainment Lawyer, Label Manager of Jatta Records & Artist Manager; S. Madison Bedard, Branding & Marketing Expert: Consumer Package Goods and Entertainment; Cynthia Karaha, Founder of World Music Promotions, Artist General Manager: BélO & Feet of Rhythm Dance company & Artist Career Developer.
Event Manager: Nadia Dieudonne
Panel Discussion Outline:
Are you an artist from the Caribbean looking to perform at the World Music level, but not sure how to manager yourself while looking for a manager? Are you a manager who needs some guidance on how to get your artist moving in the right direction? This workshop will give you some insight on how to navigate through the complexities of the genre / sub-genre of World Music and where to situate your music. This panel of experts will present some real life challenges with practical solutions. You will be given helpful tips on how to promote and manage your music more efficiently.
Topic of discussion
*Management, marketing, promotions, social media and the legal side of the World Music entertainment industry.
*Navigate through the complexities of the genre / subgenre of World Music
*Practical tactics that will help artists to find their niche.