Tetrack "Let's Get Started" & Augustus Pablo "Eastman Dub" out this Friday 6/22
Out this Friday June 22, "Let's Get Started" by Tetrack is one of the true masterpieces of seventies roots reggae music and a must have cornerstone in any self-respecting music fans collection.
Produced by the legendary Augustus Pablo, "Let's Get Started" showcases the heavenly harmonies of Tetrack soar over a vital set of Rockers International rhythms laid down solid at Channel One and Harry J's.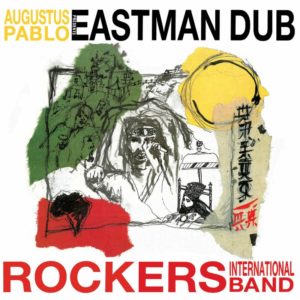 This set includes the essential singles "Only Jah Jah Know", "Let's Get Together", "Isn't It Time" along with the title track, "Let's Get Started" is paired on CD with Pablo's monumental Eastman Dub, an album showcasing a vital selection of Rockers dub attacks based around the Tetrack classic. This newly remastered version is by Kevin Metcalfe and includes an in Digi-pack with12 page booklet with liner notes written by Noel Hawks.
"We are proud to release this album set one day after Augustus Pablo's birthday," said Christopher Chin, President of VP Records. "Tetrack's 'Lets Get it Started' is a reggae classic and Augustus Pablo's "Eastman Dub" showcases a piece of his exceptional work."
CD Tracklisting
CD includes "Tetrack – Let's Get Started" & "Augustus Pablo – Eastman Dub"
"Tetrack – Let's Get Started" 
Only Jah Jah Know
Let's Get Started
Look Within Yourself
Isn't It Time
Couldn't Walk Away
Judge And Jury
It's Up To You
Let's Get Started
We Don't Get Along
Simple Things
Only Jah Jah Dub
Eastman Dub
Look Within Dub
Isn't It Time Dub
It's Up To Jah Dub
Big Yard Connection
African Dub
Original Scientist
Cornerstone (Chapter 3)
LP Tracklisting
"Tetrack – Let's Get Started"
Side One
Only Jah Jah Know
Let's Get Started
Look Within Yourself
Isn't It Time
Couldn't Walk Away
Side Two
Judge And Jury
It's Up To You
Let's Get Started
We Don't Get Along
Simple Things
"Augustus Pablo – Eastman Dub"
Side One
Only Jah Jah Dub
Eastman Dub
Look Within Dub
Isn't It Time Dub
It's Up To Jah Dub
Side Two
Big Yard Connection
African Dub
Original Scientist
Cornerstone (Chapter 3)