Kasava Blu-Food All-Inclusive… An alternative Carnival Sunday affair!
In this current carnival climate that offers consumers several generic all-inclusive, cooler-fete & mass market party options, WAD Events is bringing back its signature annual 'Kasava Blu-Food All-Inclusive' to add some spice and diversity to T&T's Carnival Sunday fete line-up.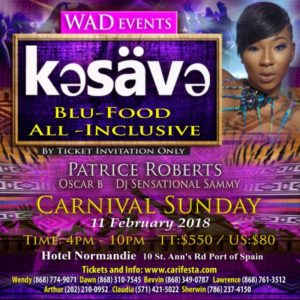 Now in its second year, the festive event which takes place at the Hotel Normandie in St. Ann's on Carnival Sunday 11th February 2018 will bring forth an all-inclusive fete experience perfect for those desiring to have a good time in a classy, intimate environment complete with all the necessary elements i.e. great people, sumptuous food, unlimited drinks, live entertainment and non-stop sweet Soca music.
Kasava (stylized Kəsävə) provides a cost-effective all-inclusive fete option and lead up to Carnival Monday and Tuesday for those Soca junkies who may have been partying hard all week but still need their 'fete fix' in an atmosphere that is not as fast-paced as a boat ride or breakfast party.
Just as the event's title suggests both local and foreign-based foodies will have access to an impressive spread of T&T's local cuisine selections AKA 'Blu-Food' prepared by the excellent chefs at Hotel Normandie which includes Oildown, Coocoo & Callalloo, Sautéed Cassava, Rice & Peas, Cornmeal Dumpling & Saltfish, Gingery Stewed Chicken, Stewed Pork, Creole Fish and much more.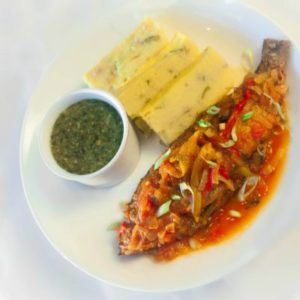 Attendees will also be able to sample local fete favourites e.g. Accra Kebabs, Mini Rotis and Doubles and partake in premium drinks and cocktails from Kasava's skilled mixologists.
In addition to a variety of homegrown culinary and beverage options, Kasava patrons will enjoy live performances by the dynamic Patrice Roberts and the versatile Oscar B and be fully entertained with the pulsating sounds of Soca from DJ Sensational Sammy.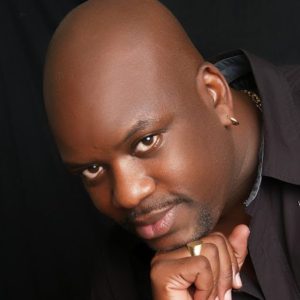 The WAD Events team (which is comprised of seasoned event organizers from T&T and North-America) has pulled out all the stops for a fantastic Carnival Sunday soiree.
Most notably, part proceeds of this event will go to the Rotaract Clubs of Trinidad and Tobago (a youth arm of the Rotary Club).
For a ticket price of $550TT ($80US), experience an alternative Carnival Sunday affair at the 'Kasava Blu-Food All-Inclusive' on the 11th of February 2018, at Hotel Normandie, 10 Nook Avenue, St. Ann's from 4pm – 10pm with secure parking at Normandie, Chaud Restaurant and Boy Scouts.