Star-studded Line-Up for Demarco's Birthday Celebration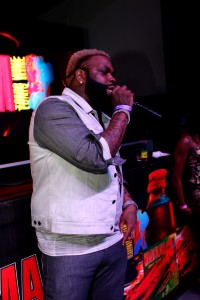 SEPTEMBER 17, 2014 || Come Saturday, September 27th the Lime Light Entertainment Complex in Half Way Tree will be transformed with a kaleidoscope of activities as Dancehall star Demarco unveils his inaugural birthday celebrations hosted by True Gift Entertaiment (TGE).
Aptly titled 'GOOD BOOK', the event coined from his current chart topper will feature some of the biggest names in the local entertainment space including a plethora of surprise performers bolstered by musical selections courtesy of in-demand jocks ZJ Liquid, Richie Feelings, Boom Boom & Harry Hype, Foota Hype, CD Fantasy Sound, Hotta Maestro and Demarco's own official dj Slaughta Global from the popular U.S based Half Crazy Sound out of Boston.
According to event organizers one of the major highlights of the night will be a female dance contest for the now viral ladies anthem 'Puppy Tail' where the top three contestants will collectively walk away with almost One Hundred Thousands ($100,000) in cash and prices on the night.
Currently enjoying one of the best years of his career Demarco says he'll be giving patrons a reprieve due to the current back to school challenges by offering a subsidized cost at the gate. Women will be charged $500 in a 2 for 1 deal while men will pay a nominal five hundred ($500) Jamaican dollars to gain admission.
"There will be a lot of excitement and surprises on the night so patrons should come out to enjoy themselves and see what we have in store for them. I don't want say too much but I promise it will be a memorable occasion for all in attendance." – Demarco added
Meanwhile, with an upsurge in popularity and an amassment of current hits such as 'Good Book' 'Bad Gyal Anthem', 'Put The Duppy Pon Yuh', 'Build A Vibes', 'Lazy Body' and 'Ride' Demarco is prepping for a busy schedule over the upcoming Heroes Weekend. The singer recently returned from Suriname and French Guiana amid shooting the second season of his now popular online series 'Talk Yuh Mind' which is available via his official Youtube channel at Youtube.com/Demarcolife.