Buika At Town Hall Pre-Sale & Afro Cuban All-Stars At Blue Note This Week!
APPEARING THIS WEEK!!!
Tuesday March 12 – Sunday March 17
AFRO CUBAN ALL-STARS
Experience an incredible night of music as the dream team of Cuba's finest musicians take center stage at the Blue Note!!
featuring Juan de Marcos González
(of the Buena Vista Social Club)
The 16 piece orchestra will transport you straight to Havana with their authentic sounds.
The Afro-Cuban All Stars is a unique orchestra that has always been devoted to promoting the full range of Cuban music, one that embraces several generations and all musical styles.
Juan de Marcos González (Buena Vista Social Club) is one of the most important figures in Cuban music today. He has a mission to show the world the wealth, diversity and vitality of Cuban music. His work with the Afro-Cuban All Stars, the Buena Vista Social Club, Rubén González, Ibrahim Ferrer, Sierra Maestra and others has made an extraordinary contribution to raising the profile of Cuban music throughout the world. However, neither his name nor his crucial contribution is well known to the general public and he remains something of an unsung hero of Cuban music.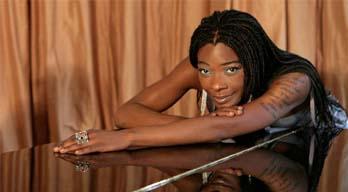 BUIKA
June 13, 8:00pm
at THE TOWN HALL, 123 West 43rd Street NYC
PURCHASE TICKETS NOW
WITH AMERICAN EXPRESS CARD
Presale Ends and Tickets
go on sale to the general public on March 20th
Voted one of world's "50 Great Voices" by NPR, Buika—born on the island of MaJorca to African immigrant parents—has emerged as a true innovator, a must-see artist among jazz aficionados. Her evident African roots and her cosmopolitanism, developed in clubs in Spain and Americanized during a surreal stint in Las Vegas, explain Buika's rare self-possession. But nothing can quite explain her ability to connect, in spite of the fact that she sings nearly exclusively in Spanish—Buika is simply one of those rare and wonderful "one listen" artists. It's a quality that struck the renowned filmmaker Pedro Almodóvar, who cast her in The Skin I Live In, and jazz legend Chick Corea, who featured Buika as a special guest during his epic run at the Blue Note in late 2011.