Reggae Star Gyptian at Grammy Week In New York via BB Kings!
Reggae super star Gyptian will perform at legendary music venue BB Kings in New York on January 24th, 2018 as a part of Grammy Week.  He will be joined by rising sensation Arita for an exclusive engagement in the heart of the City that doesn't sleep!
Produced by Tempo Television Networks, the one night engagement will feature performances of Gyptian's newest singles "Closer" and "Leave You Alone" which come from his EP due to be released later this month, and introduces audiences to Arita's voice who may not already be familiar with her.
Gyptian, whose catalog includes cross over hit singles "Hold Yuh," Nah Let Go" and "Beautiful Lady" is an attraction for industry executives who will be in New York for the Grammy festivities, namely, the marking of the award shows 60th anniversary.  When contacted about the show Gyptian said "I'm looking forward to this show because a lot of people will be there, and I'm there to entertain!"
Tempo is the first pan-Caribbean media and entertainment company to produce culturally relevant content for mainstream media.  With its flagship cable Television Network, TEMPO captures and delivers the extraordinary Caribbean vibe by successfully producing and delivering Caribbean content dedicated to music, culture, cuisine, and social awareness initiatives.  About the evenings' event, Tempo executives are encouraging all fans to "organize yourselves and get there!"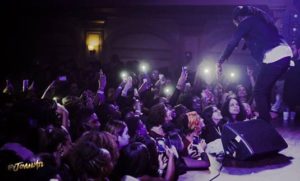 Gyptian's return to New York comes on the heels of completing his UK tour which included shows in Manchester, Birmingham and London.  The 2 week tour saw the artist connect with fans who eagerly anticipate the release of his EP.  Documenting his travels, Gyptian's Instagram page (@realgyptian) is loaded with videos and personal highlights.
Media are invited to download Gyptians newest single "Leave You Alone" using this mediafire link:  https://www.mediafire.com/folder/fnni3yufjc4sf/Gyptian(2)
#30#
Bookings and Management email mslegends@yahoo.com or call 954-338-0200
Publicity and Media inquiries:  natashavoncastle@gmail.com or call 647-572-5075​