CHRISTOPHER MARTIN AND RAGING FYAH JOIN VP RECORDS FOR THE UNVEILING OF A REGGAE MUSIC JOURNEY AT SANGSTER INTERNATIONAL AIRPORT
CHRISTOPHER MARTIN AND RAGING FYAH
JOIN VP RECORDS FOR THE UNVEILING OF
A REGGAE MUSIC JOURNEY
AT SANGSTER INTERNATIONAL AIRPORT
Exhibition Chronicles the History of Reggae Music's Biggest Label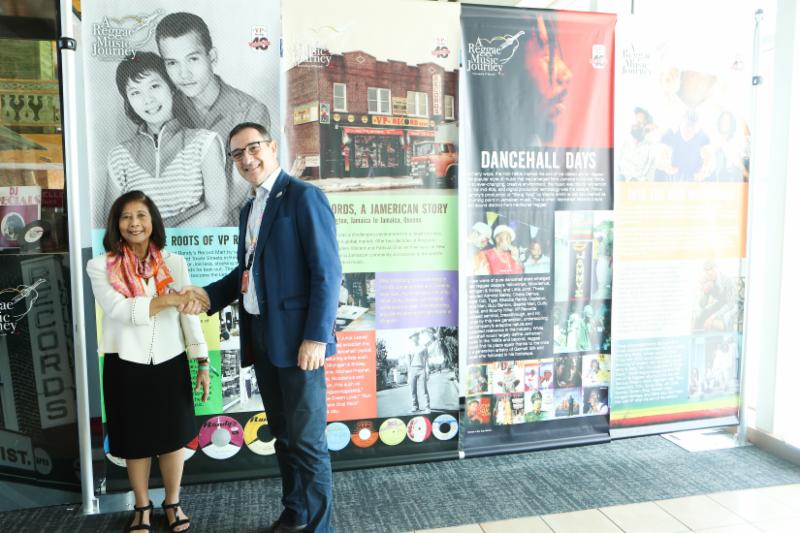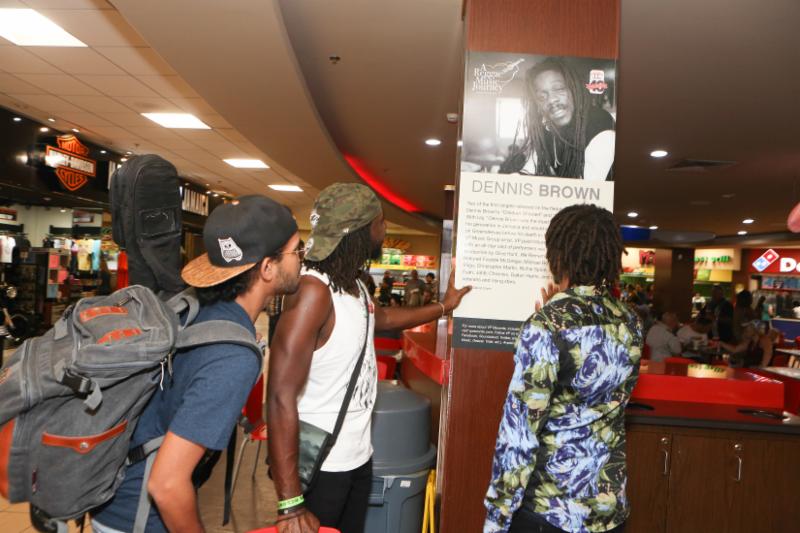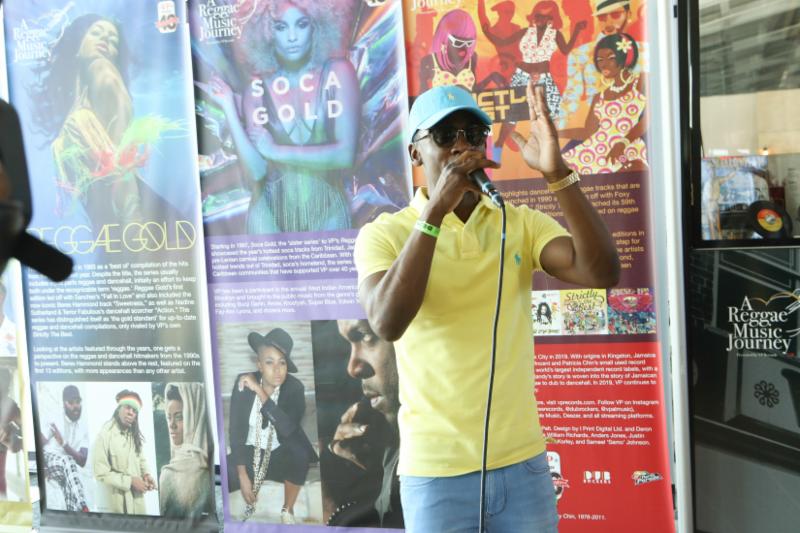 Caption: 1st photo: Pictured left to right: Patricia Chin – Founder VP Records and Dr. Rafael Echevarne – CEO MBJ Airports Limited, unveil A Reggae Music Journey exhibit at Sangster International airport, Montego Bay, Jamaica.
2nd photo: Raging Fyah looks at Dennis Brown photo exhibit at MBJ food court
3rd Photo; Christopher Martin sings "Big Deal" after ribbon cutting
Photos by Ajamu Myrie
NEW YORK, NY – VP Records, the world's largest reggae music company, along with artists' Christopher Martin, Raging Fyah and Kemar Highcon took part in a ribbon cutting ceremony unveiling 'A Reggae Music Journey' at Jamaica's Sangster International Airport. The multi-media exhibit is part of the label's yearlong celebration of its 40th anniversary and chronicles its history of working with some of the biggest artists in reggae music. The grand opening included impromptu performances by Christopher Martin and Raging Fyah and remarks by Chief Executive Officer of MBJ Airports Limited, Dr. Rafael Echervarne, and VP Records Co-founder Patricia Chin.
"Our celebration of VP Records' 40 years in America, has coincided with the citation from UNESCO that Jamaican reggae music is an intangible cultural treasure," said Patricia Chin. "This exhibit represents our shared heritage and some of the glorious achievements of reggae music. My hope is that all who visit our Reggae Music Journey will be inspired to strive for even greater things."
The exhibit, which is in the departure terminal, will remain at Montego Bay's Sangster International Airport until June after which it will move to Kingston's Norman Manley Airport. Curated by Carter Van Pelt, VP Records' Director of Catalog Development, the exhibit consists of three separate displays that extend from the food court through Gates 12 and 14.
"Each year Sangster International Airport welcomes millions of travelers from across the globe, and it is with immense pride we present 'A Reggae Music Journey' so all visitors to Jamaica can see and experience VP Records' contribution to reggae music," said company president, Randy Chin. "From Randy's Records to some of our biggest hits and more, we're proud of these accomplishments and it's all here for the people to soak up."
Featured material includes details of the company's beginnings in Kingston, Jamaica to the establishment of VP Records in Jamaica, New York. Fans of the label's compilation series, Reggae Gold, Soca Gold and Strictly the Best will see the development of these individual projects over the years.
Artifacts including vinyl records, CDs and a platinum sales award for Sean Paul's Dutty Rock LP are also weaved throughout the exhibit. Some of the genre's most admired artists, including Beres Hammond, Sanchez, Luciano, Garnett Silk, Lady Saw, Freddie McGregor, and Dennis Brown who have had key releases distributed by VP Records are featured in the exhibit as well.