Raging Fyah Sizzling Summer Single "Dash Wata", Band Announces US Tour Dates
Regarded as one of Jamaica's most promising young acts, self contained band Raging Fyah has recently released their third studio album "Everlasting" (debut #2 on Billboard). Deemed to become an instant classic, "Everlasting" has delivered a 13 tracks must have for all reggae lovers.
Among the hits, the buzzworthy single "Dash Wata" is gathering momentum on social media and international airwaves and a strong contender for summer anthem. According to the band, the song is "For all the man dem in expressing our thoughts to a beautiful woman."
Pele, Demar and Anthony Watson (drums, backing vocals), veteran guitarist Courtland "Gizmo" White and lead singer Kumar deliver the album's first single playful words "Let's go for a walk Down by the river side Let's go for ride.. Ill take you to the mountain side Baby give your hand.. I will take the lead talk… We can talk bout the birds and the trees I'd like to give you a squeeze…"
Please contact info@MPRconsulting.org for MP3 request.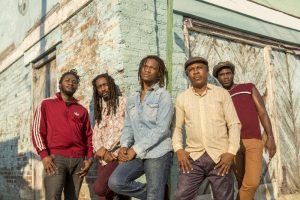 RAGING FYAH TOUR DATES
July 11th – Washington, DC    Jammin Java
July 12th – Boston, MA    Brighton Music Hall
July 13th – Brooklyn, NY    Brooklyn Bowl
July 14th – Wakefield, RI    Ocean Mist
July 15th – Philly, PA    Coda
July 17th – Cleveland, OH    Beachland Tavern
July 18th – Chicago, IL    Reggie's Rock Club
July 19th – Omaha, NE    Waiting Room
July 20th – Minneapolis, MN    7th St. Entry
July 22nd – Bellvue, CO    Mishiwaka Amphitheatre
July 23rd – Denver, CO    Fox Theatre
July 24th – Taos, NM    Taos Brewery
July 26th – Phoenix, AZ    Crescent
July 28th – Santa Monica, CA    The Pier
July 29th – Los Angeles, CA    The Regent
July 30th – Las Vegas, NV    Brooklyn Bowl
July 31st – Santa Barbara, CA    Velvet Jones
August 2nd – Santa Cruz, CA    Catalyst
August 3rd – Petaluma, CA    Mystic Theatre
Copyright © 2016 MPR Consulting, All rights reserved.