Raging Fyah Releases New Single "Rebel"
Off the heels of a Winter tour with Rebelution, Raging Fyah is releasing their brand-new single "Rebel" out this Friday on Dub Rockers/ VP Records. The single is the first since their Grammy nominated album "Everlasting" in 2016.
Produced by Llamar "Riff Raff" Brown and written by Raging Fyah, the energetic reggae track features the band's signature sound with new subtle alternative instrumentation, taking their music to new heights.
Along with new music and a new album in the works, the band will also be embarking on "The Marching Orders" Spring Tour with Hawaiian roots reggae band The Green and Iya Terra. Commencing in Austin TX, stops along the west coast will also include Corpus Christi, Tucson, Las Vegas, Scottsdale, Ventura and Berkeley, closing at the Cali Roots Festival in Monterey California on May 27th. Tour dates below.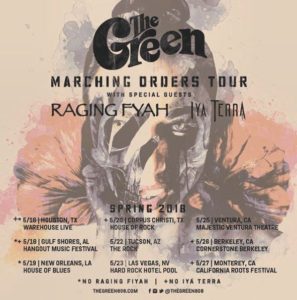 Upcoming Tour Dates with The Green
May 19
Flamingo Cantina
Austin, TX
May 20
House Of Rock
Corpus Christi, TX
May 22
The Rock
Tucson, AZ
May 23
Hard Rock Hotel
Las Vegas, NV
May 24
BLK Live
Scottsdale, AZ
May 25
Majestic Ventura Theatre
Ventura, CA
May 26
Cornerstone Berkeley
Berkeley, CA
May 27
California Roots
Monterey, CA