Janine Jkuhl Promotes New Single
Indie singer Janine Jkuhl is making the rounds, promoting her single Your Smile. The self-produced track features a host of distinct instruments that can satisfy the ears of anyone who enjoys smooth music. Coupled with her soothing voice, the beat has a calming Alternative Fusion sound to it. A music video for the track is also in the works and is expected to be released soon.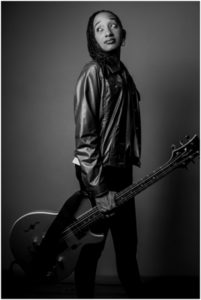 Currently an independent artiste, Janine Jkuhl has been getting her music fix since the age of three and since then, has reaped the fruits of her labour through singing competitions and notable performances. She released her first album Star Gaze in 2009. Some of her past tracks include Coffee, Tempted, Fashion Over Style, Moving On and Who Is The Blame. The singer's distinct style of mixing an international sound with local flavor has helped her to stand out in the crowd.
Using music to transcend listeners into a "relaxing, soothing world" her style can be described as an eclectic mix of many styles such as Jazz, Classical, Soul, Rock, Funk and of course, Reggae. "I create music that tells a story that listeners will find pleasing not just to the ears, but to the heart and soul," she explained, "whatever I as a creative being may feel sounds good to create the atmosphere and mood for the story and its message."
Working towards being a well-known and respected name in the Jamaican industry, Janine has appeared on shows such as Plug N' Play, the French Embassy's Fete De La Musique, JARIA Reggae Month Show and Womanbition. She was the guest soloist for the Diocesan Festival Choir of Jamaica Concert Series and was highlighted as the featured artiste on Indie radio programmes in the USA and the UK, such as the John Wayne Show on Maven FM in the US where her single Tempted was rated in the top ten songs of May 2016.
With the positive reactions to the track and eagerness from listeners to hear more, plans are in place for more music to be produced in an anticipation of a new album, as well as local and international performances.