Noise Cans Announces New Track on Fell Up Records – Out on 10/14/16
*FEEL UP RECORDS PRESENTS*
NOISE CANS
FEAT. SKINNY FABULOUS AND DANIELLE VIERA
"DO IT LIKE AH PRO"
10/14/2016
NEW YORK CITY— The DJ's presence from background to foreground through generations of music has evolved in unimaginable ways. Noise Cans, a DJ/producer from Bermuda, who presents himself as an otherworldly character behind a mask is a unique fusion of performance and art.
On October 14th, 2016, Noise Cans resurfaces with a new single, "Do It Like Ah Pro" featuring Skinny Fabulous and Danielle Viera. The high-octane anthem will be distributed by Feel Up Records, the label founded by Jillionaire of Major Lazer.
"Do It Like Ah Pro" is a tidal wave of analog percussion instruments and digital handclaps. The production traces soca from the West Indies then quickly colors outside the lines of Carnival vibes to incorporate electronic dance music. This sonic blend of past and present walks the same line as Noise Cans' homage to the traditional Gombey mask. Steeped in centuries of mythology from the island of Bermuda, the mask is an iconic symbol, born of resistance to authority. Noise Cans expresses a contemporary embodiment of this rich folklore rooted in African, indigenous, Caribbean and British cultures. On stage, Noise Cans appears in modern interpretations of Gombey masks flanked by vibrant dancers wearing intricate masquerade costumes, creating a mesmerizing visual and audio atmosphere. The cover art for "Do It Like Ah Pro" also features his muse wearing the Gombey mask.
While "Do It Like Ah Pro" pulsates a contagious rhythm that incites movement of all kinds, the vocal performance by Skinny Fabulous and Danielle Viera are equally captivating. "I wanted to make a soca-inspired EDM tune, and being that Skinny Fabulous has always been one of my favorite soca acts, he was my first choice," says Noise Cans. Both Skinny Fabulous and Danielle Viera are soca heavyweights representing St. Vincent. In 2010 they were a dynamic duo on "Party Again" (Brass Fest 2 Riddim). Skinny Fabulous has also collaborated with Machel Montano and Major Lazer. Danielle Viera's sizzling feature with Noise Cans mirrors her soca anthem, "Wuk Up Yuh Waist" from 2008.
Last year, Noise Cans made a splash with Mr. Vegas and Lady Bee on "Bucka," released on Steve Aoki's Dim Mak record label. The collaboration made Noise Cans one of the most anticipated artists to watch from the Caribbean in LargeUp.com's annual feature. Mic declared, Noise Cans "is drawing from its roots to bring the art of performance back to EDM," and Billboard and The FADER have embraced the forward-thinking Noise Cans.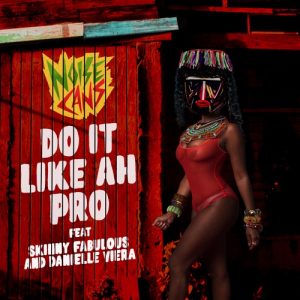 "Do It Like Ah Pro"
Noise Cans feat. Skinny Fabulous and Danielle Viera
October 14th, 2016
Feel Up Records
http://noisecans.com
https://www.instagram.com/noisecans/
https://twitter.com/NoiseCans
https://soundcloud.com/noisecans
http://feeluprecords.com
http://twitter.com/FeelUpRecords
http://souncloud.com/FeelUpRecords