JABBA STRIKES BACK *** Miami *** with Shades of Black & Red on October 13, 2013.. Columbus Weekend
COLOMBUS DAY WEEKEND on Sunday October 13, 2013. "JABBA STRIKES BACK" SHADES OF BLACK OR RED. It's A Formal Affairs @ BONGOS at 601 Biscayne Blvd | Downtown Miami located Behind The American Airlines Arena).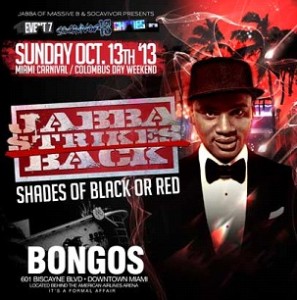 Live in The Reggae Room: Mssive B , Tony Matterhorn, Steelie Bashment, Young Chow, Platinum Kidz, Big Reef, Fire Redz, Mikey Mike.
Early Fire by Supa Don, Road INTL & Supa Sound From NYC. Live in the Soca Room: Back2Basics, GBM Sounds, Natural Freaks, Pantrin Vybz, D-Life, House Arrest, DJ Trixta, DJ Calli B, Elegance Sounds. Ladies are free before 10:30pm and doors open @ 10pm.