New Album (Aug 27) – Sly & Robbie and The Jam Masters – Reggae Connection – Grammy-Winning Production Duo Rally in Artists from Japan, Jamaica & US
On Aug 27th, 2013, Sly & Robbie and The Jam Masters return with their latest effort Reggae Connection, available August 27 on Taxi Records. With nine Grammy nods, two Grammy wins and over 200,000 singles under their belt, the esteemed Jamaican production duo is no stranger to success. The session aces have not only changed the musical landscape in Jamaica. They have impacted music throughout the entire world. During their 30 plus year career, Sly & Robbie have collaborated with legends including Bob Dylan, Bob Marley, Jimmy Cliff, Peter Tosh, Rolling Stones, Paul McCartney, Sting, Britney Spears and Grace Jones.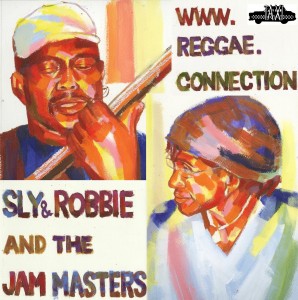 Reggae Connection, co-produced by Kaz Asonuma in addition to Sly & Robbie, is the follow up release to their 2013 Grammy-nominated reggae album New Legend – Jamaica 50th Edition. Destined for another Grammy win, the 10-track compilation features an eclectic group of musicians over Sly & Robbie's masterfully arranged reggae rhythms.
The album's first single "Gangsta Luv" is sung by the up-and-coming all girl Jamaican group KGN21 with dancehall legend Mr. Vegas. The mid-tempo, one-drop reggae track is laced with Sly's stellar live drumming, Robbie's melodious bass line and a wicked guitar string arrangement.
Sly & Robbie's penchant for covers also shines on the new collection. They deliver a blissful reggae rendition of Maroon 5's "One More Night" from Jamaican songstress Nioma and create a powerful, dancehall-flavored version (voiced by KGN21) of the Wonder Girl's K-pop Billboard chart topper "Nobody."
In addition to their native country, Sly & Robbie rallied in multiple vocalists from around the globe. The popular Hawaiian roots-reggae singer Irie Love lends his subtle emotive locals on "So In Love," while an all-star cast of Japanese artists – including Lecca on "Minutes Later," Chitose Hajime on "Hold Me," Coma-Chi on "I Wish" and Alba Natsuki on "Yume" – are featured on the album.
Fans who want to take a closer looker into the making of Reggae Connection, can watch a clip from Sly & Robbie's exclusive recording session: