Zoelah Live @ Optimum 7, All Inclusive Event on Sun September 1st
This is a special invitation to all, inviting everyone to The Optimum 7 Night Before Labor Day All Inclusive Event featuring soca artiste Zoelah live and direct, as we get you ready for Labor Day 2013.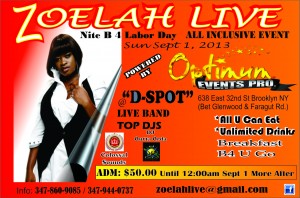 This event is being hosted by Optimum Events Pro, a premiere events planning entity in New York City which has been hosting quality events for several years but became officially established in 2013. Optimum Event Pro has been renowned for planning and hosting events with a slightly unique touch that is so far unmatched. All events hosted by this entity so far combines quality food, entertainment and a network of either mature or mature at heart folks, all in a very secure close knit environment. At Optimum Events Pro, every event literally takes your breath away. Its appeal captures one's every senses such as the sense of taste n smell that the food brings. The audio visual appeal comes from the live band performances and the décor, while the disc jockeys rock your aural senses with their pulsating sounds. All of these aforementioned factors combined, make all Optimum Events your ultimate fun event or party experience any and every time.
On Sunday September 1st, D Spot located @ 638 East 32nd Street illuminates with Zoelah live, our night before labor day, all inclusive event. This event comes with an all you can eat buffet, consisting of two menus; a roti and curry menu and a Bar-B-Que and rice menu, with Jerk Pork and Stewed Oxtail on the side. The bar remains open all night long with all premium drinks and patrons are served with breakfast to energize them before they hit the parkway. This is just a partial description of the Optimum experience, so you are invited to come and experience this awesome event for yourself. This event is opened up to include people of all flags; all nations and cultures, from the Caribbean and beyond, we welcome everyone.