LADIES HAVE XYCLONE CRYING OUT "WO!!!"
Written by Lesley Hayles
Dancehall Reggae artist Xyclone really hit it big in recent months with his "Back Pocket Rag (Low Me Name)" track that is still getting considerable airplay in Jamaica and the US. Now he returns with a follow up anthem for the ladies that are sure to please.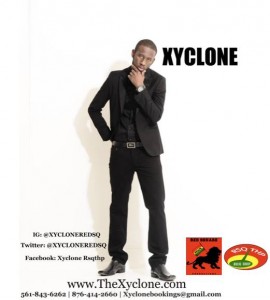 Xyclone's label RSQTHP Music Group, which is a branch of Spragga Benz's label, Red Square Productions, and produced "Back Pocket Rag (Low Me Name)", has teamed up with producers Minto Pierre and Riff Raff to create "Wo!!! (Woiii)", a single that has already started a mind-blowing response on several radio stations in Jamaica, US, the Caribbean and Europe.
After the success of "Back Pocket Rag (Low Me Name)", Xyclone's lyrical prowess even caught the attention of distribution giants VP Records. RSQTHP Music Group has recently signed their first distribution deal with VPAL Music, which is VP Records' Associated Label distribution company. Apart from "Back Pocket Rag (Low Me Name)", songs such as "Wo!!! (Woiii)", "It's On (Remix)" featuring Kevin Little, Red Rat, Deva Bratt and Delly Ranx, "Top Shottas Anthem" featuring Deva Bratt and UK's popular Dancehall artist Stylo G's "Bolt" tracks on the Top Shottas Riddim are all leading singles that will now be distributed by VP Records via VPAL Music since June 2013. There are many more releases lined up so the future of Xyclone's career is looking brighter already.
With the video for "Back Pocket Rag (Low Me Name)" making massive head way on various TV stations and websites globally as well as over 13,600 views on YouTube in less than a month, "Wo!!! (Woiii)" is a favorite of the ladies and has been played by King Waggy Tee on South Florida's mainstream 99 JAMZ radio station, as well as ZIP FM, Irie FM, Linkz FM and Hitz 92 FM in Jamaica. It's also tearing up the Dancehall scene on the East Coast of the USA along with "Back Pocket Rag (Low Me Name)" and the name Xyclone becoming more known in North America. The video was recently shot for "Wo!!! (Woiii)" and is currently in its editing phase to be released soon.