Millbeatz Entertainment Composes the Orchestra Riddim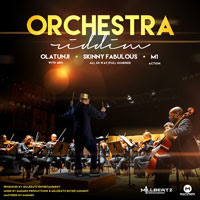 Millbeatz Entertainment composes its sensational new compilation Orchestra Riddim, available worldwide from all major digital retailers on December 4, 2015, from FOX FUSE. Produced by David "MillBeatz" Millien, the collection brings heat to the 2016 Trinidad Carnival season, which is currently underway.
The Orchestra Riddim received a coveted feature on the iTunes U.S. Reggae New Music chart, during its week of release, thereby placing Millbeatz Entertainment and all the featured artists in the international spotlight. The album is also currently charting in the top 100 on the iTunes U.S. Reggae Top Albums chart.
Featuring four beautifully-crafted tracks including new soca anthems "With Meh" by Olatunji, "Action" by M1 and "Full Hundred (All De Way)" by Skinny Fabulous, the groovy rhythm will keep you in the carnival mood, all year long.
TRACK LIST
1. Olatunji – With Meh
2. Skinny Fabulous – Full Hundred (All De Way)
3. M1 – Action
4. MillBeatz Entertainment – Orchestra Riddim (Instrumental)