Blackstarr Productionz Explodes with Buss Riddim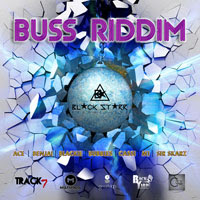 Blackstarr Productionz explodes with its new soca compilation Buss Riddim, available worldwide from all major digital retailers on December 4, 2015, from FOX FUSE. Based in Trinidad and Tobago, Blackstarr Productionz is captained by producer Arnold Noel, who has been producing music for over four years now.
The Buss Riddim is featured on the iTunes U.S. Reggae New Music chart during its week of release, placing Blackstarr Productionz in the mainstream limelight. The album is also currently charting in the top 100 on the iTunes U.S. Reggae Top Albums chart.
Blackstarr Productionz teams up with Trinidadian production house Track 7 for the groovy, calypso-tinged rhythm, which boasts seven songs. It features soca and calypso stars Benjai, Blackie, M1, Sir Skarz, Bubbles, Cassi and Ace. The audio-only videos are garnering views on YouTube and this collection of new hits adds more gems to the growing Blackstarr Productionz catalog.
TRACK LIST
1. Bubbles – Man Up
2. Benjai – Feeling
3. Sir Skarz – Something
4. Blackie – Pick Up One
5. M1 – My Crew Sipping
6. Cassi – Horning
7. Ace – Trinidad