Line up of Dominica's 20th World Creole Music Festival Announced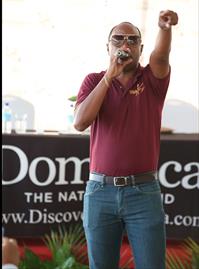 Roseau Dominica – The stage is set for a star studded line up of the 20th world Creole Music Festival in Dominica from October 27 – 29, 2017.  The three nights of pulsating rhythms line up was revealed at the Fort Young Hotel on July 13, 2017.  The contribution of past and present event directors was acknowledged as the World Creole Music Festival has become a landmark event which showcases the island's rich creole heritage.
The official line up for the 2017 World Creole Music Festival is:
Friday October 27
Saturday October 28
Sunday October 29
Breve

Klass

Mavado

First Serenade Band

Yemi Alade

Triple Kay International

Marcé & Tumpak

Kai

Machel Montano

Asa Bantan

Zouk All Stars featuring Jean Marc Ferdinand, Orlane, Francky Vincent, Stéphane Ravor

Mizik à Nou All Stars featuring Michele Henderson & Elisha Benoit

Kalash

Swingin' Stars with calypsonians

Bunji Garlin & Fay-Ann Lyons

Sweet Micky
For more information on the 20th Annual World Creole Music Festival, visit www.DominicaFestivals.com
For more information on Dominica, contact Discover Dominica Authority at 1-767- 448-2045; or, visit Dominica's official website: www.DiscoverDominica.com, follow Dominica on Twitter and Facebook and take a look at our videos on YouTube.