Karen Hinds aims to promote Caribbean Professional Development
Karen Hinds aims to promote Caribbean Professional Development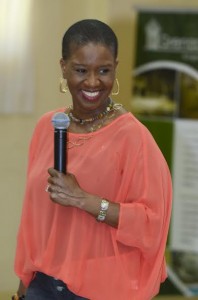 Waterbury, CT – With numerous accolades and international work experiences under her belt, acclaimed author, motivational speaker and entrepreneur Karen Hinds is on a journey to increase personal and professional development within the Caribbean community's workforce and general population.
Born and raised in St. Vincent and the Grenadines, Karen, who is the author of 5 books, a weekly newspaper columnist and CEO of Workplace Success Group LLC, is an expert in developing emerging leaders.
Through Workplace Success Group this devout wife and mother has utilized training, consulting and development services along with a 7 strategy employee development system, The Power of Distinction™, in order to assist various individuals and organizations in reaching new levels of excellence.
Karen is also the host of 'Karen Hinds' Phenomenal Woman Conference', a 2-day event that provides a forum for women and girls to get focused, build a success mindset and develop the courage to accomplish their personal and professional dreams.
The inspiration for Karen's journey comes from her formative years growing up in the Caribbean where she enjoyed speaking and reciting psalms and poems to large church audiences. With time, ambition and spirit-led guidance this youthful inspiration transitioned into her current passion for human/professional development which she now executes via conferences, workshops, seminars and webinars.
According to her, "I usually find ways to reference experiences from my time in SVG or incorporate old sayings from the older people in my village to demonstrate a point."
She further stated, "I am on a mission to help people discover and master their God-given talents so that they can live powerfully distinctive lives. My goal is to position my company to play a pivotal role in the professional and personal development of individuals in the Caribbean region and Diaspora market."
Karen added, "We have great people in our region and from a business perspective we want to help companies develop employees who are professional, globally competitive and reach new levels of performance. We also want to make a significant impact on the personal development front; we've found that an employees' success at work is directly linked to how they view themselves."
With her hope that she is fondly referred to as the 'Caribbean's answer to Tony Robbins', Karen has in the last 15 years worked with international corporate and educational organizations such as Frito-Lay, Harvard Business School Executive Education Program, Sikorsky Aircraft Corporation, the University of Connecticut, Meharry Medical College and Trinity college.
Additionally, she has been quoted or featured in several U.S. and Caribbean media outlets e.g. The Boston Globe, Black Enterprise and Family Circle Magazine.
With repeat international clientele, a 6th book on the horizon and an arsenal of solutions which are designed to reflect the learning styles of various audiences, Karen Hinds eagerly anticipates expanding her firm's employee training and development for the entire Caribbean community and partnering with different regional companies to grow globally competitive employees.