Jamesy P, Skinny Fabulous and More Mash Up 'The Blitz Riddim' – Album Available Today
New York, NY – The Blitz Riddim – Various Artists is an explosive soundtrack of power soca and is available worldwide from all major digital retailers today, August 13, 2013. Featuring power soca star Skinny Fabulous, soca impresario Jamesy P, and rising sensations Silvah and Teddy Rhymez, the electrifying singles are set to take many stages, playlists and fetes by storm as carnival season continues around the world.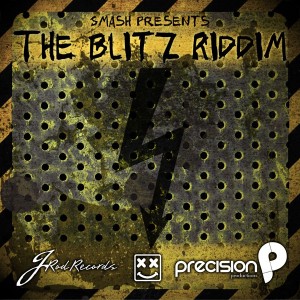 Britain-based producer Ashwin "Smash" Seegobin returns to his Trinidadian roots for his latest release and unites with his production team Precision Productions and J-Rod Records on the four thrilling tracks, which indeed make for a short but very sweet compilation. Jamesy P, known internationally for his breakout hit "Nookie," now stuns with "Trouble." Skinny Fabulous, known for his blockbuster single "Charge Up (Duracell)," delivers another power anthem with "Fyah Anthem." Upcoming soca sensations Silvah and Teddy Rhymez score with "Bad & Ready" and "How Yuh Doin Dat," respectively.
Smash stays on course of his grand experimentation of soca music and all its sub-genres with The Blitz Riddim. This take on power soca builds his repertoire and catalog, which now includes pop and electronic soca fusions, and now power soca, thereby invoking into the soca genre an inherent taste of the world, as only Smash can. "I'm excited to finally produce my brand of power soca and glad to work with some artists I've always admired in the genre," he reveals.