International Recording Artiste Popcaan Collaborates With Renowned Producer Notnice
NEW YORK, USA – After their famous stint with and departure from the disbanded Gaza Empire, Dancehall Producer Notnice and Recording Artiste Popcaan has started working with each other once more.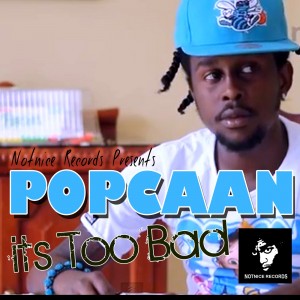 Notnice and Popcaan who have been busy building their own brands over the last few years, recently partnered and produced a single titled " 'It's Too Bad' on the Dextox Riddim produce by Notnice Records.The single which was released recently has already been creating a stir, as its received thousands of views on YouTube and countless spins on local and international airwaves.
Popcaan has been enjoying success from several other singles and stints and is poised for even more greatness as this partnership brings the artiste to a familiar atmosphere where both through the former group made hits but most of all share experiences that have kept the world intrigued and excited.
Notnice who hasn't slowed down since, is fully charged and ready to explode once more on the local and international scene. The producer states "when i was working on the Detox Riddim, i wanted a diffent flavour and Popcaan came to mind so i just gave him a call". He further states " 'Its too bad' is a very nice song as it have a different sound from what people are use to from Popcaan… Its slow and catchy with an international appeal, just another hit!".
The multi-talented producer also recently released, a reggae compilation titled " Free Spirit" which features acts such as Turbulance, Jah Vinchi, Daville, Million Stylez and others. Other projects include"Duppy Show Riddim" with Mega Banton and the ladies favourite club banger "Good Body Gyal Anthem" by Aidonia, Charly Blacks 'Yuh Touch Sweet', Jahmeil 'Someday' and Alkaline 'Things Mi Love'.