Grammy Award-Winning Morgan Heritage Set to Perform at New York Stock Exchange 94th Annual Tree Lighting Ceremony on November 30th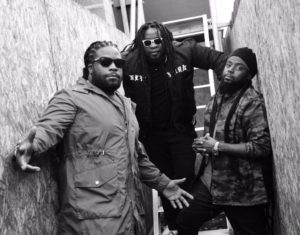 Renowned Reggae Act Riding High On Critically Acclaimed Album Avrakedabra
"It's the reggae album that's about to make history"  – Huffington Post
Grammy Award-Winning Morgan Heritage Set to Perform at New York Stock Exchange 94th Annual Tree Lighting Ceremony on November 30th
New York,NY – GRAMMY-Award winning reggae band Morgan Heritage is set to perform at the New York Stock Exchange 94th Annual Tree Lighting Ceremony on November 30, emceed by DJ Niko (Z100) and Daymond John (Shark Tank) among others. The family band from New York is riding high on their critically acclaimed album Avrakedabra, "…the reggae album that's about to make history" says Huffington Post. In 2016, the group won a GRAMMY for "Best Reggae Album" as producer and artist for Strictly Roots.
The culture-driven band, who takes pride in staying true to authentic reggae, recorded Avrakedabra across four different continents in their mission to take reggae music to the four corners of the earth. The album that debuted at the top of the iTunes Reggae chart in 8 different countries, highlights include, multi-GRAMMY winning Ziggy Marley and Stephen Marley, in an alliance of two great musical legacies on "One Family," and Mr. Talkbox, the famed computerized voice from Bruno Mars' 24K magic on "Want Some More".
Although the Brooklyn born group's DNA is from Jamaican origins, they've managed to infuse the sounds of Pop, Rock, Country, R&B and Hip-Hop into their eclectic mix, which they call Rockaz".
Avrakedabra  was produced by Morgan Heritage and Multi-GRAMMY/EMMY Award-winning producer Shannon Sanders. A host of multi-award winning producers and musicians also contribute including Michael Lorello, Supa Dups, Phillip "Winta" James, Jason "J-Vibe" Farmer, Seani B & Don Chandler, Lamar "Riff Raff" Brown, Bost & Bim, Mike Austin and Michael Polk.
The New York Stock Exchange Tree Lighting performances are open to public viewing at 11 Wall Street from 2:30 p.m. – 6 p.m.