Future Fambo's Album Evolve Makes Its' Top 10 Debut on iTunes Chart!
Dancehall Star Future Fambo has released his album Evolve – The Uprise which makes its' Top 10 debut on the iTunes chart making Dancehall history for the veteran artist!
The album, Evolve – The Uprise, is the first ever released by the artist, marking an important milestone in his career.  The choice in album title is poignant as Fambo has evolved from releasing singles, to releasing a complete body of work.  To have the disc debuted on the iTunes chart is icing on the cake!
Produced by Blaze Entertainment Records, based in the United States, the album features 13 tracks that are heavily influenced by EDM (Electronic Dance Music), and is heavily spiced by the artists patois vocals.  Songs like "WAVY," "Wanna Be" and "Molleh" have tested well with fans in the Caribbean and Europe, while "The Bloodclaute Song" and "Rick Flair" continue to receive radio attention due to their popularity.
While speaking to DJ Unknown at Real Deal 106.1 FM in New York, Fambo described the albums creative process as being "forward thinking."  Fambo elaborates by saying "the album had to be recorded with a party in mind that is going to happen.  Usually when I record I do it thinking about what happened in the past.  We flipped that script and I really like how it turned out.  It's WAVY!"
Blaze Entertainment, producer of the record, adds that they were focused on the product, as well as the sonic connection for fans which plays into the visuals.  "It's one thing to produce an album for a Veteran like Fambo" said Stylez, "and then it's something else to produce music that combines the lingo, the patois, and the wave of the future which is EDM combined with Caribbean swag.  All tracks were carefully selected so all fans have to do is press play."
Future Fambo is currently touring to support both physical and digital versions of his album.  He performs the lead single "The Bloodclaute Song" which is always received well.  His follow up single, "Rick Flair" has also received a lot of support from radio and live event DJs.  The music video for the song is currently being shot on location in Jamaica and New York.
Digitally distributed by Tropic Electric, the album will be marketed to partygoers worldwide.  Future Fambo will be performing in the US, Jamaica, Canada and the UK.  The artist will also be on tour in Germany to promote the project.
Catch all the tour updates via www.futurefambo.com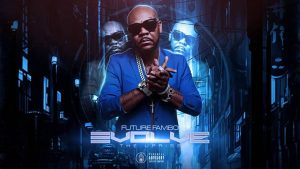 Media inquiries can be sent to futurefamboinfo@gmail.com
Media Access Link:  https://app.box.com/s/elfk6q2itty7t15p58oq7a1hu8chswhb
About Future Fambo:
Future Fambo has worked or collaborated with just about everyone in the Dancehall genre from producers to artists, his creativity and seasoned artistry affords him many opportunities to create with a variety of production houses to date. Recent releases include singles from Seanizzle, Kapa Shanti and UIM Records.
In August 2014, Fambo inked a deal with US based label, "Blaze Entertainment Records", which produced the artists first album "Evolve – The Uprise."  Through Blaze Entertainment, Fambo's album will see production from Grammy winning producer Magnedo 7, Richie Loops, Blahzae, Stylez and Sisco Kennedy. In preview, the album received rave reviews from industry tastemakers such as Atlantic Records own Mike Keran and Dancehall gatekeepers.