JANO, an Ethiopian rock explosion, to make live NYC debut at SOB's AUGUST 16 + Summer World Music Fest 2013
New York, NY — On Friday, August 16, the first ever Ehio-rock group known as Jano, will perform live at SOB's!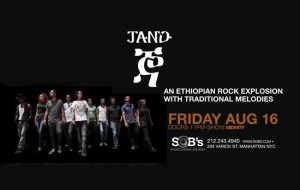 The innovative ten-piece collective is the first ever Ehio-rock group that transcends culture and time . With their debut album, "Ertale." on the horizon (set for release on August 1st),Jano will bring its fusion of traditional Ethiopian melodies and rock music to SOB's on Friday, August 16 for the group's live NYC debut! Consisting of two male vocalists, two female vocalists, and six music instrumentalists the band successfully brings together artists with varying experience and talents. Established only a year and a half ago, Jano Band has since performed on numerous occasions and is now set for the big stage at SOB's for the band's live NYC debut!
Doors for the show will open at 11PM, and the show will begin promptly at midnight.