DAMIAN MARLEY'S STONY HILL WINS GRAMMY FOR BEST REGGAE ALBUM
Damian "Jr. Gong" Marley's "Stony Hill" album won the Best Reggae album category last night at the 60th Annual GRAMMY Awards. Up against contenders Chronixx, Common Kings, J Boog and Morgan Heritage, Marley's win marks his 4th GRAMMY Award. Having previously won "Best Urban Alternative Performance" for his groundbreaking acclaimed single "Welcome to Jamrock" and others for Best Reggae Album for his studio albums "Welcome to Jamrock" and "Half Way Tree," the accolade is another high point in the brilliant career of the singer/ songwriter and son of reggae legend Bob Marley.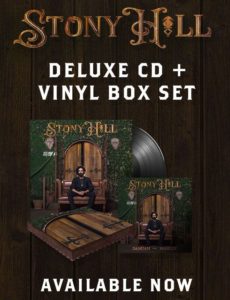 Released on January 19, 2018, the Vinyl LP set follows the albums #1 debut on the Billboard Reggae Chart in July. The deluxe two-disc, colored vinyl set includes a glossy 48-page color booklet featuring exclusive photography of Stony Hill landscapes and candid's of Damian by photographer B+ of Mochilla. The booklet also contains lyrics to all 18 tracks complete with full production credits. This vinyl gift-set is tailor made for Marley fans and the warm mastering of the vinyl edition will add to the listening experience of even his most ardent followers.
In addition to his GRAMMY win, Damian recently debuted the visuals for "Speak Life" the track off his GRAMMY Award winning studio album. The video exclusively premiered on global music and entertainment platform, TIDAL and features cutting-edge dancehall production by first-time Marley collaborator, Anju Blaxx of U.I.M. Records. The video was directed by B+ of Mochilla and filmed in Addis Ababa, Ethiopia. The album also features additional tracks including, "Medication," "Nail Pon Cross" and "R.O.A.R."
Gearing up for a U.S. festival run this year, Damian is set to take the stage at Reggae Rise Up in St Petersburg, FL, Kaya Festival in San Bernardino, CA and Governors Ball in New York City. Additionally, he is headed to Columbia, where he will be headlining the Jamming Festival. Tickets are available now. This summer, he will embark on a European tour and is planning his North American tour for the fall.
"We are very proud to be associated with the album and send congratulations to Damian and the Ghetto Youths team" said Christopher Chin, CEO of VP Records. "The Vinyl LP set is a great collector's item for fans to commemorate this latest achievement."
This is the first solo album for Marley since the groundbreaking Welcome To Jamrock in 2005. VP Records is the exclusive distributor for the vinyl package of "Stony Hill" and the 2010 project "Distant Relatives," the Marley collaboration with the rapper Nas.