SONGS FOR REGGAE LOVERS OUT NOW, JUST IN TIME FOR VALENTINES DAY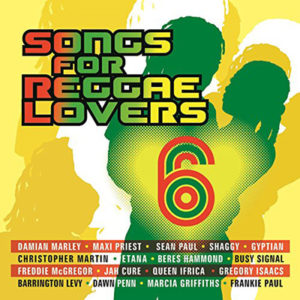 The Songs For Reggae Lovers series is now firmly established as the must have reggae valentine selection!
Songs For Reggae Lovers Vol. 6, aims straight for the heart with 30 hit love duets from true giants of Jamaican music. Featuring classic love songs by Sean Paul, Shaggy, Maxi Priest, Gyptian, Beres Hammond, Marcia Griffiths, Dawn Penn, Freddie McGregor and many more.
Track Listing
Disc 1
1. Maxi Priest & Dela Rosa – Your Love To Me
2. Gyptian & Melanie Fiona – One More Time
3. Sean Paul & Sasha – I'm Still In Love With You
4. Marcia Griffiths & Cutty Ranks – Really Together
5. Lady G & Beres Hammond – Have Them In A Circle
6. Richie Stephens & Diana King – Closer I Get To You
7. Jamelody & Ikaya – Love Has Found Its Way
8. Etana & Busy Signal – Love Love Love
9. Wayne Wonder & Trina – For My Love
10. Sizzla & Cornadine Campbell – What Am I To Do Baby
11. Alborosie & Nikki Burt – Can't Let You Go
12. Benji Myaz & Yeshembeth Gimmi Gimmi Your Love
13. Fiona & Ghost – Slowly
14. Lady Saw & Shaggy – Love Is Strange
15. Dawn Penn & Bounty Killer – No No No (Word A Respect)
Disc 2
1. Jah Cure & Phylisia – Unconditional Love
2. Queen Ifrica & Damian Marley – Trueversation
3. Christopher Martin & Alaine – Still In Love
4. Ziggi Recado & Etana – All MY Life
5. Bushman & Nikki Burt – Lonely
6. Luciano & Lady G – Bounty Lover
7. Lloyd Brown & Fiona – Show And Tell
8. Jimmy Riley & Michelle Gordon – Private Number
9. Barrington Levy & Lady Saw – Cool & Loving
10. Gregory Isaacs & Marcia Griffiths – Number One
11. Anthony Cruz & Nikkiesha Barnes – Hold Me
12. Wayne Wade & Melonie – I'll Be Lonely
13. Freddie McGregor & JC Lodge – In The Heat Of The Night
14. Pam Hall & Frankie Paul – You Know How To Make Me Feel So Good
15. Sharon Forrester & Skatta – Heaven