Chicago Music Awards Press Conference And Photos!
219 MUSICAL ARTISTS AND INDUSTRY PROS NOMINATED FOR 32nd ANNUAL CHICAGO MUSIC AWARDS
TJohn Blu leads field with 4 nods, Slique and Gueroloco follow with 3
Two hundred nineteen (219) musical artists and music industry professionals from a wide variety of musical genres were nominated in 36 categories for the 32ND Annual Chicago Music Awards (CMA).
The announcement was made November 8 at the Copernicus Center in Chicago. Topping the list of nominees for the second year in a row is R&B entertainer John Blu in four categories– R&B Entertainer of the Year, Best Male Vocalist, Record Producer of the Year and Songwriter of the Year. R&B/Soul singer Slique and Latin urban artist Gueroloco followed with three nominations each. Superstars Kanye West and Sugar Blue, R&B artist Jeremih, Eddie Korosa Jr. and Best New Entertainer nominees Sidewalk Chalk and Chance the Rapper, tied with two nominations each along with guitarist/songwriter Todd Carey, Pop/R&b artist J. Silva, and R&B/Hip Hop performer J. Lyn.
In addition to the nominees, it was announced that Lifetime Achievement Awards will be presented to veteran drummer Tony Smith, performing for 65 years Polka entertainer Eddie Korosa, Jr., performing for more than 45 years and jazz drummer Jack DeJohnette, performing for 50 years and one of the country's most influential jazz drummers. Award of Honor recipients are Tony Bitoy, Tony Bitoy Productions and Evangelist Dolores Diggs, State Minister of Music, Northern
Jurisdiction of the Church of God in Christ. Marshall Thompson of the soul group The Chi-Lites will receive the Producer's Award. All of the honorees have made important contributions to the music industry for 30 plus years.
The 32nd Annual Chicago Music Awards takes place Sunday, January 20, 2013 at the Copernicus Center, 5216 W. Lawrence Avenue. Doors open to the general public at 6:30 pm with Celebrity Red Carpet arrival and reception at 6:00 pm. Special early-bird tickets are available now and can be purchased at www.martinsinterculture.com/cma-ticket-shop or www.copernicuscenter.org. Advance tickets are $32 General Admission and $75 for VIP tickets. For more information and to purchase tickets, call 312/427-0266.
The nominees were selected by experts in the music industry, including DJs, promoters, producers, record labels, night clubs, booking agents, entertainment attorneys and others connected to the entertainment industry. After recommendations have been tallied by the Chicago Music Awards team of volunteers and verified by the accounting firm of Robert R. Scott & Associates, Inc., the top five to seven nominees in each category are placed on the nomination ballot for the general public to vote and select the winners in all categories.
Dedicated to Health Awareness, this event is made possible with the support of the following sponsors: NBC 5 Chicago, Robert L. Scott & Associate, Rogers Park Fruit Market, Kingston Mines Blues Club, Herbert Witter Insurance Brokers, Inc, Life Music Group, Uncle Joe's Jerk Chicken, Atty. Kelvin Bulger, African Spectrum and others.
The Chicago Music Awards pays tribute to Chicago's rich and diverse musical heritage. Hundreds of artists in categories ranging from Pop, Reggae, Blues, Jazz, Rock, Country & Western and Gospel — R&B, Soul, Hip Hop, Latin, World Beat and more are recognized at this festive event.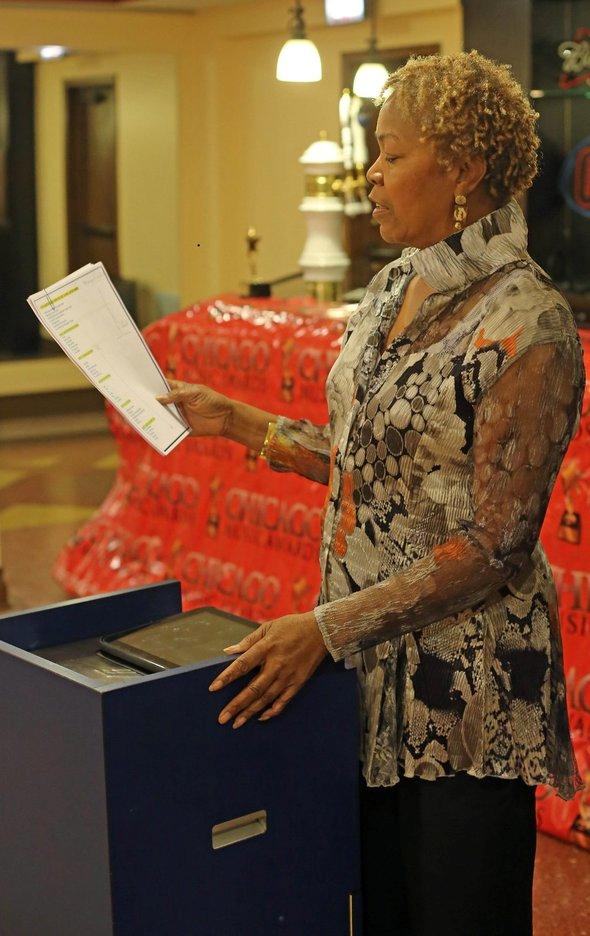 Barbara Kensey- PR MIC announcing nominees for 32nd Chicago Music Awards- Copernicus Center
Photo by David Pryce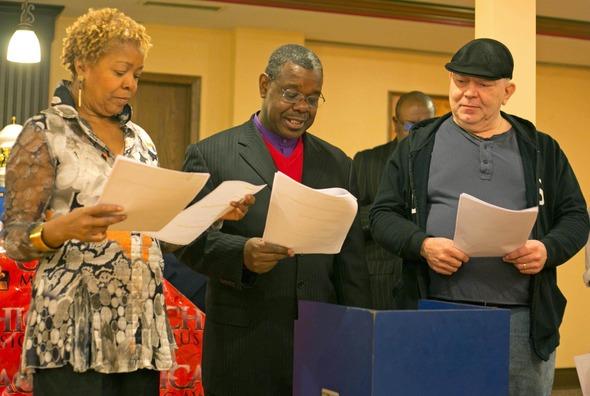 Ephraim Martin- center- joined by Barbara Kensey- Frank Pellegrino and Dr Robert Scott in background to announce Chicago Music Awards nominees.
Photo by David Pryce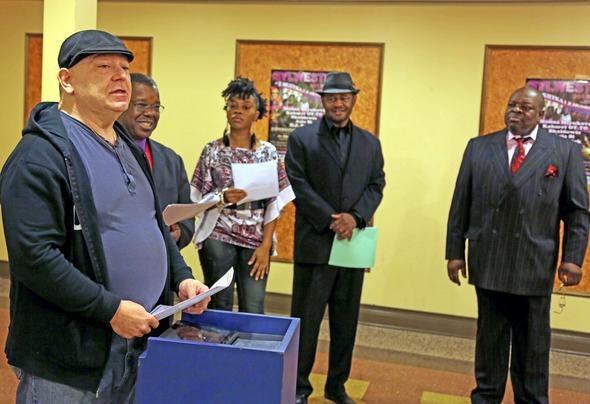 Frank Pallegrina-Ephraim Martin- Aniba Hotep- Rob Juic- Dr Rob Scott at Press Conference.
Photo by David Pryce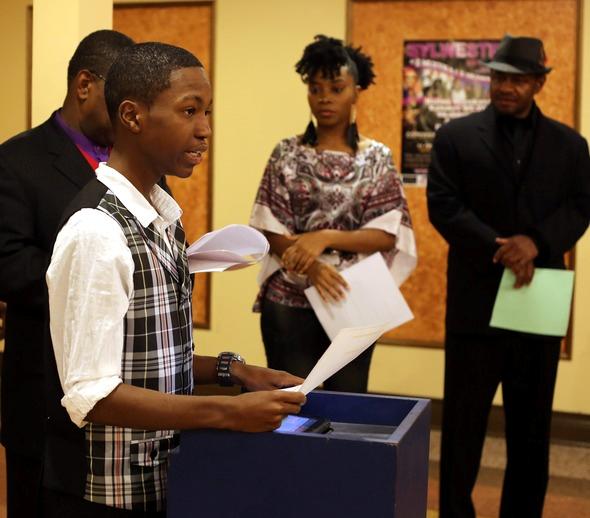 Nominees Yng Star- Aniba Hotep- Rob Juice joined -Ephraim Martin- partly hidden to announce 2012 nominees
Photo by David Pryce