BELIZEEAN ARTIST MESHA STEELE DEBUTS "EVERYTHING BUT ME" ON CAPSICUM LABEL
"From her very first notes, as well as keen songwriting skills. you immediately get the sense you are listening to a singer who is very confident, experienced — and most definitely talented," says Capsicum CEO and A&R Director Roger Meltzer who penned Everything But Me and co-produced and arranged it with Joseph Everton "Reality" Weekes.  
"Her influences range from acoustic, r&b, hip-hop & jazz, perfect for Capsicum fusions with reggae, dancehall and soca. I am delighted to welcome her into our growing roster of international artists.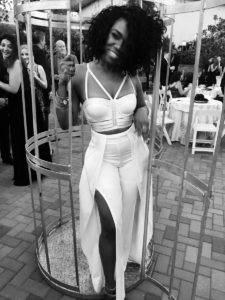 "Meeting Mesha was just a happy circumstance — one of those fate things," explains Meltzer. "She happened to be one of the headliners performing the night I received the 2016Tropicalfete Award of Excellence in New York. We didn't even get a chance to chat after the ceremonies; but I was able to track her down. I also got to hear an earlier release she wrote called Waking Up With You and play it regularly on the radio show in response to listener requests."
Born in Belize into a family of singers, musicians and fashion designers, growing up MESHA STEELE was never short of role models. Due to the tragic loss of her mother when she was two years old, Mesha was raised by her grandparents, owners of a band consisting of her uncles and other relatives. Mesha remembers rehearsals in her back yard on Sunday afternoons as the place where her voice was first discovered. She was only four years old and already harmonizing to the melodies sung by her uncle. About a year later the band migrated to the United States, but they left a lasting impression on Mesha. She knew right away that music was her destiny.
Later on, Mesha, along with her two older sisters, formed a group known as the (McGregor) M GIRLZ. The group became the toast of her homeland and was voted the best vocal group in the country. The M GIRLZ was not only one of the main local acts but also opened for top reggae artists performing in Belize such as SHABBA RANKS, LADY SAW, PATRA and COBRA. After her sisters decided to "settle down," Mesha went solo and continued to make her mark as a singer and performer; by the late 90's she was considered Belize's foremost female artist. She also became the lead vocalist for THE MESSENGERS, one of the most popular bands to come out of Belize.
For the next few years Mesha toured extensively throughout the United States, as well as South and Central America, sharing the stage with various reggae, soca and oldies artists such as BYRON LEE AND THE DRAGONAIRES, SQUARE ONE, VIC TAYLOR, KEN LAZARUS, PERCY SLEDGE . In 1999, Mesha received recognition as the Best Live Performer in Carnaval Cozumel.
In pursuit of her dreams, in the year 2000 Mesha migrated to New York City, performing at many venues and festivals  throughout the tri-state area such as Irie Jamboree, New Jersey Reggae Fest, Groovin' In The Park, and through out the U.S., Canada, Mexico and Europe. In 2007, Mesha collaborated with the ARTISTIC FAMILY, an independent label based in Kingston, Jamaica.  The label produced several singles with Mesha such as Just Me And You, Treat Me Like A Lady, Can't Live For Yourself and Playgroundfeaturing DANNY ENGLISH.
In late 2011, Mesha independently released several singles including an acoustic version of the late Whitney Houston's Saving All My Love For You and also the single Waking Up With You, recorded and produced in Jamaica.
She recorded a reggae Christmas album called Christmas In Paradise, which was released November 26, 2012. Due to popular demand, Mesha was re-booked to tour Central America and Mexico in 2013 and 2014 receiving the Gold Mask award, a top honor for artists in Mexico for her outstanding performance in Carnaval Cozumel in March of 2014.
Her exceptional vocal skills have enabled her to share the stage with artists like Joe, Sizzla Kalonjie, Beenie Man, and Damian (Junior Gong) Marley, and to tour with Warrior King, Gyptian, Spragga Benz and Black Judah and frequently performing with Burning Spear and Everton Blender. She also made a cameo appearance in Barrington Levy's 2017 music video for G.S.O.A.T.
Mesha has now grown into a sultry songstress with a dynamic and captivating voice — her sound, unique and compelling. One thing is certain, she incorporates all the influences she had growing up to create a style and lyrics that are uniquely spiced.
As her musical journey continues, Mesha has managed to surround herself with a strong team. She is confident that she is in the right place at the right time
"The power of a great song is: you dance, you reminisce, you get a little naughty, and when it's over, you play it all over again" Mesha says when asked what she hopes her listeners will get from her music.