Lyrikal Releases First Album
Brooklyn NY (11 July, 2016)—Soca artiste Lyrikal will release his first album titled The Journey on July 22. The songs on the album and its title perfectly reflect Lyrikal's maturation as an artiste.
"I chose the name The Journey because the album shows my growth and my experiences over the past decade," Lyrikal explains.
The Journey, a 20-track album and All Access DVD, brilliantly captures Lyrikal's musical journey to this point in his career. It tells the story of his hard work, his victories, and his struggles and is guaranteed to entertain and inspire listeners.
Born Devon Martin in Trinidad and Tobago, Lyrikal started his music career as a child singing in a church choir. He moved to New York at the age of 13, started recording and releasing music and the rest is history. Now Lyrikal is a household name. He has recorded more than 200 tracks and has seen worldwide success with his hits "Cloud 9," "25/8," "Loner," "Freedom," "Conquer Meh" and "Dip and Roll." He has toured the world to worldwide acclaim.
The Journey will hit all digital stores on July 22. Preorder your copy on July 16. Physical CDs will be available on Lyrikal.com on July 22 and hit stores on July 29.
The Journey Track List
1. Loner
2. Unlimited Vibes (with Kes the Band)
3. Party Tun
4. B.O.F.A. (Breath of Fresh Air)
5. Dip and Roll
6. Devotion (with Ragga)
7. Nobody
8. Conquer Meh
9. Worlds Greatest (with King Bubba)
10. Freedom
11. No Reminder
12. Lockdown (with Kerwin Du Bois)
13. Surrender
14. 25/8
15. Ramajay
16.Cloud 9
17. Part Ah Yuh Nature
18. All Over De Gyal
19. Loner Road Mix
20. Cloud 9 Acoustic Mix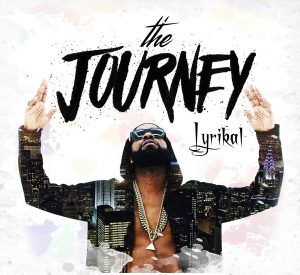 Media Contacts
Natasha Andrews
917-495-6205