Barbie is back!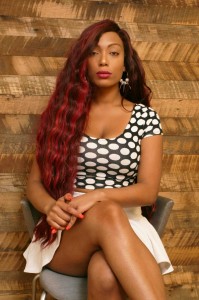 Barbee drops hot music video 'Just Like That'
The voluptuous singer Barbie has been seen on the local stage for a while, but she has been quietly doing her thing on the international scene.
Her new single and music video 'Just Like That' has announced her intention to reestablish her presence in Jamaica and the wider Caribbean.
The video which was recently released in the Caribbean has been getting some positive reviews with people loving its high quality and also for it being very entertaining.
Barbee dubbed the 'Caribbean Princess' by popular US TV host Wendy Williams, who is presently on a promotional tour of the United Kingdom (UK) is upbeat about the her video.
She said, "I am really excited about this project, we shot it in Atlanta and New York. The young ladies were a pleasure to work with, the dance choreographer Richard Bricks was from Atlanta which brought in the real southern (US) style of dancing mixed with Caribbean swag. It's really a wonderful video and I hope you guys love. "
The song was produced by Rock City aka Planet 6 with Rose Henry and Shamar Francois as executive producers. Rock City is noted for their work with international artistes such as Rihanna, Miley Cyrus, Kelly Rowland from Destiny's Child and many other top artistes.
'Just Like That' has a pop/dancehall feel with an infectious beat which makes you just want to dance.
The video is being distributed by Media Blu Caribbean in the Caribbean and the United States and can be seen on all major cable and TV stations in those areas.
Barbee first burst on the scene in 2008 with the song Missing You', collaboration with Junior Kelly which became a mega hit around the world.
She followed up strongly with other hit songs such as 'Patty Cake' with Beenie Man, 'Love You Anyway' and more recently 'Come See About Me' collaboration with popular US recording artiste Trina.
She is now taking her career to a higher level. "I am looking in a different direction right now where my career is concerned," Barbee said. "My focus is to make it on the international stage and I have been working hard with some established producers who know what it takes to get there. I am feeling good about the work I am putting in because I have some tracks to follow which will definitely be big hits."
Barbee was very appreciative of all who played a part in the making of her new music video. "I want to thank all who helped to make this (Just Like That) project a success. Including stylist Fashion Forward Boutique from Atlanta, makeup artist Gabriel from Atlanta also Ray Alexander and Johnny Capbell. It was really a great experience."