Anita Antoinette Voice Finalist to release new song
Anita Antoinette Single Release
Anita Antoinette's first single entitled "Care" to be released.
Midilord, Inc. is pleased to announce Anita Antoinette's first single to be released since her appearance on NBC 6's hit show, The Voice.
Anita Antoinette's anticipated musical release titled "Care" will be released on June 15th 2016. "Care" was written and produced by Anita previous to her appearance on the Voice but was never released. After signing an agreement with Duane Summers for management, he heard "Care", along with all the other recordings she had previously completed and decided that this should be her first release in the month of June, which happens to be Caribbean American Heritage Month.
Anita grew up dancing to the rhythm of her father's music Clinton Fearon, a member of The Gladiators, a Jamaican roots reggae band, most popular during the 1970s  in Kingston, Jamaica. Self-taught singer and guitarist, Anita began writing her own music as a teenager, inspired both by her father and other legends, including Bob Marley, India Arie, and Erykah Badu. She graduated from the prestigious Greater Hartford Academy of the Arts in 2008, and was accepted to the Berklee College of Music in Boston, Massachusetts, where she earned a Bachelors Degree in Professional Music: Concentration in Music Business and Songwriter
Anita Antoinette has performed on stages large and small throughout New England, the Northeast and the Pacific Northwest, including 2008 appearance at the Library of Congress in Washington DC. She has appeared on the 3rd and 7th season of NBC's hit show, "The Voice" which she placed in the TOP TEN. She easily became one of the most loved and talked about performers. Since then she signed a management agreement with
Duane "Midilord" Summers, former Production Manager for multi-platinum selling and Grammy award winning artist Sean Paul. Anita is currently working on her EP due to be released during the Summer of 20116.
"For Anita's second blind audition, she won over all four coaches with this unique take on Bob Marley." – TV Guide News, The Voice: 2nd  Best Blind Auditions Of All Time.
On June 15th 2016 "Care" will be available on all digital music mediums including Apple Tunes, iTunes Amazon, etc.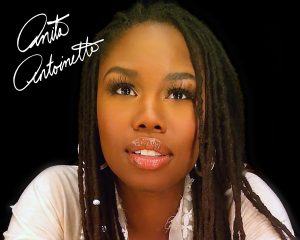 Anita Antoinette is available for phone, video and live interviews. Please contact Jason Walker at (678) 208 7371 to set up a time that is convenient.
Please visit Anita Antoinette's website at www.anitaantoinette.com to stay up to date with her news along with much more information, including mp3's, pictures and contact info.
Website: http://www.anitaantoinette.com/