1st Klase Records and Farmer Nappy "Meet Trouble"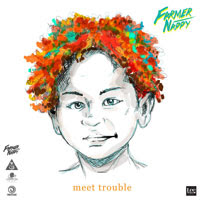 Internationally-acclaimed soca star Darryl "Farmer Nappy" Henry drops his spicy new single "Meet Trouble," available worldwide from all major digital retailers on December 4, 2015, from FOX FUSE. Trinidad and Tobago-based hit house 1st Klase Records brings us this sizzler from the Trinidadian groovy king for the 2016 Trinidad Carnival season. The track is featured on the iTunes U.S. Reggae Top Songs chart, during its week of release.
Produced by Klase Gonzales for 1st Klase Records, "Meet Trouble" showcases Farmer Nappy's signature groovy vocals, fused with an up-tempo beat, to creative another carnival anthem for the electrifying entertainer and the 1st Klase Records imprint.
Farmer Nappy built a global fan base as part of fellow international soca act Machel Montano's 'HD Band,' touring extensively for over two decades now, and bringing the sounds of mas to the masses worldwide. With his new hit in hand, Farmer Nappy continues his quest of carrying Caribbean music around the world, 30 years and counting.