Grace Jamaican Jerk Festival New York Served It UP!
Queens, New York – The culturally rich and gastronomically delightful 3rd Annual Grace Jamaican Jerk Festival at Roy Wilkins Park in Queens, New York brought out a diverse group of some 15,000 patrons – from grandmas and grandpas to babies and everyone in between – for a cultural and culinary feast that left them thoroughly satisfied. From the gates opened at noon until closing time at 8:00 p.m., patrons feasted as they savored a variety of entertainment offerings.
The line to enter the park stretched for blocks as some patrons waited for a little over an hour to gain entry into the festival. But once in, they roamed the grounds feasting on various jerk offerings from food vendors and enjoyed the many varied activities that the festival offered, such as the Cultural stage which featured the Braata Folk Singers, Dancehall Aerobics, oral traditions and drumming. The kids were kept busy in the Kidz Zone featuring rock climbing, face painting, bounce houses and a pirate show.
In the heated Celebrity Jerk Cook-Off, New York City Public Advocate Bill de Blasio out-jerked Leon of the Movie Cool Runnings, winning by a very slim margin. Sukanta Jerk Hut was judged Best Jerk Chicken walking away with the coveted Dutch Pot and $500 in cash prize. The Silver Dutch pot and $200 went to Boston Jerk City Restaurant, while Porty Jerk Flavors was third and copped the bronze and $100. Of course, popular Grace Foods' Chef Maize Miller engaged patrons in the Jerk Cook-off Pavilion and served up tips in the kitchen and samples, as she wowed with her culinary prowess. Winning Chef, Brian Lumley also displayed his culinary skills preparing a tasty Jerk Shrim Pasta dish which was gobbled up by foodies in the packed Jerk Cook-off Pavilion.
The Main Stage delivered a musical feast for every palate, climaxing with a sizzling concert featuring Fab 5 Band who served up old favourites like "Shaving Cream," "Jamaican Woman," "Wild Gilbert" and a medley of festival songs. Other strong performances came from rising star Christopher Martin who charmed fans with a litany of reggae hits including "Chill Spot," "Cheaters Prayer" and "Mi Friend Dem" while Shaggy had the entire park singing along to number one hits songs like "Bombastic," "Angel," "It Wasn't Me," and "In The Summer Time." Surprise appearances came from Maxi Priest, Oliver Samuels and Gyptian, who was presented with a Gold Plaque for his hit "Hold You" which was recently Certified Gold, officially selling over 500,000 copies.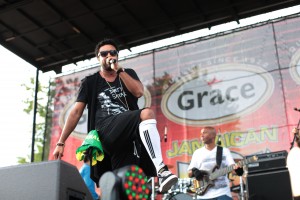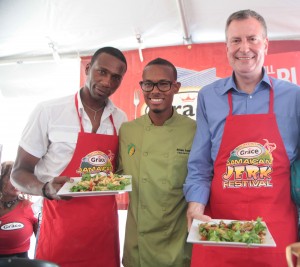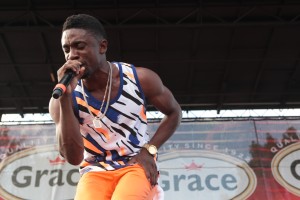 The 3rd annual Grace Jamaican Jerk Festival was sponsored by Digicel, VP Records, Western Union, The Jamaica Tourist Board, Tower Isle Frozen Foods, Fly Jamaica, Bigga Sodas, Amsterdam News, Irie Jam Media, Street Hype and VitaMalt. The event was produced by Jamaican Jerk Festival USA, Inc., and VP Records.