VP RECORDS SPONSORS MOVEMENTS FOR YORK COLLEGE PERFORMING ARTS CENTER
VP Records will be a sponsor for Movements Dance Company of Jamaica's performance at York College Performing Arts Centre, Saturday February 10, 2018. This continues the celebration as the Consulate General of Jamaica, New York marks its 55th Anniversary of the Independence of Jamaica. The performance is jointly hosted by the Consulate and York College Performing Arts Center, under the Patronage of the Minister of Foreign Affairs and Foreign trade of Jamaica, The. Hon. Kamaina Johnson Smith.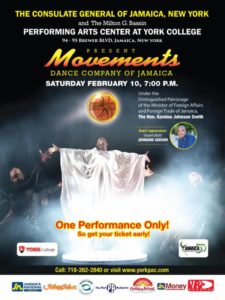 Movements Dance Company of Jamaica is headed by Co-founder and Artistic Director, Monica Campbell McFarlane, under whose leadership the Company has become renowned as one of Jamaica's leading exponents of Dance Theatre. MOVEMENTS is noted for its exquisite blend of modern contemporary, in a style that is distinctly Jamaica.
Movements Dance Company has thrilled audiences in Jamaica and overseas with a repertoire which includes the work of talented artistes from Jamaica and various Caribbean and other countries. The repertoire for New York will also include the work of renowned choreographer, Christopher Huggins whose ground breaking dance works have been staged for companies across the USA, Europe, Asia and Africa.
Commenting on the upcoming performance, Mrs. McFarlane said the Company was pleased to have the opportunity to be in New York once again, at this time when Black History is also being celebrated. She noted the fact that the performance came at a time when there had been some negative publicity surrounding the crime situation in Jamaica, saying this gave the Company a good opportunity to remind patron and well- wishers of Jamaica, that there is far more to the beautiful country of Jamaica. She said that the spirit of the Jamaican people would always be strong enough to overcome challenges which face the nation from time to time, such as crime.
Mrs. McFarlane also thanked The Consul General, Miss Trudy Deans, York College and the various Jamaican and US sponsors of the event. Beyond VP Records, other sponsors include Jamaica National, the Petrocaribe Development Fund, Megamart, Dream Castle Villa Montego Bay, Jamaica and Golden Krust Caribbean Bakery and Grill for supporting MOVEMENTS and "things Jamaican at this time".