UPDATED: Romain Virgo's "LoveSick" Valentines Week Radio Takeover
Following the announcement of Romain Virgo's upcoming album "LoveSick" on VP Records, an international Valentines Week Radio Takeover is underway. Fans of the reggae crooner can listen to the radio stations below all week for a chance to win a download of his new album out on March 30th. The 17-track album takes listeners on a journey that explores every emotion felt when finding love, losing love and finding love again. In the many twists and turns of romance and relationships, Romain represents a young man who has experienced it all and now has a dynamic story to tell.
Executive produced by Niko Browne for Lifeline Music, with additional production by Sting International and Vikings Production, the album presents a new pop reggae sound traced with his signature lovers rock style woven throughout. The first single 'Now', released last Summer, was the introduction to an energetic dance groove on the Skank and Rave rhythm. Highly contagious, the song alludes to a transitional musical direction. On the other spectrum, "Trouble" is reminiscent of his popular songs "Soul Provider", "Fade Away" and "Cry Tears For You". The bluesy, smooth rhythm released in November, showcases the sick side of LoveSick, as he tells a tale of a woman who persists on breaking up his happy home after a one- night stand.
The latest single "Still" is a passionate ballad over the upbeat Skyspraper Riddim by Richie Stephens, a forthcoming video is expected in March. The album also includes Romain's stirring version of the Sam Smith smash "Stay With Me." The song has become a fan favorite across the globe, rivaling popularity with the original version in Japan. The crooner will be embarking on a European tour at the end of March with special guest Sevana. The tour will include stops in Germany, The UK, Holland and Switzerland. He will be setting up U.S. dates later this year.
Raised in a disciplined home in the rural town of Stepney in the parish of St. Annes, Romain first gained fame when he made history as the youngest winner of Television Jamaica's (TVJ) popular "Rising Stars" talent competition at just 17-years-old and later by winning Artist of the Year by JaRIA (Jamaica Reggae Industry Association) in 2012. Growing up listening to the likes of Beres Hammond, Dennis Brown and Percy Sledge, he has modeled his musical style and career after these legends while still remaining true to who he is. Passion drips through every lyric and every note, as listeners can feel the love for his craft.
"I believe love is the one thing that's going to save us, not just in terms of relationships, but in the broader human sense," Romain says of the album's title and content. "I personally believe that nothing forms a stronger bond than love. It cuts through race, religion, creed, everything. We need to put it at the center of our lives."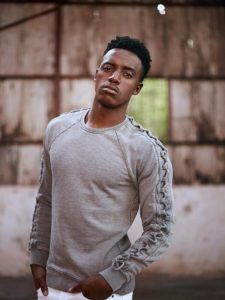 Participating Radio Stations/Shows:
U.S.
WMNF Caribbean Cruise– with Kanta Zamba (Sunday 4-6 pm)– (Tampa, FL)
WAVS FLL – with John T (M-F 7-10am)- (South Florida)
WAVS FLL – with Pat Montague (M-F 6-7pm)- (South Florida)
Da Flava Radio– with Rico Vibes (Weeknights 3-6pm, Sunday 1-3pm)- (Atlanta, GA)
KZFR 90.1 FM Caribbean Dance Radio– with DJ PHG (Tuesdays 11:30am-12:30am)- (Chico, CA)
WAVS FLL– with Jamusa (W-F 4-6pm)- (South Florida)
The Weeknight Fixx, Online– with Leo Gillings (Wednesday 8-11pm)- (Broward County, FL)
WEDR 99JAMS – with Waggy Tee – (Friday 11-2am)- (Miami, FL)
WZAB 880AM – with Eddy Edwards – (Saturday 3-6pm)- (South Florida)
WVIP 93.5 Reggae King Radio– with The Bajan King- (Saturday 8-9am)- (New York Tri-state)
WDNA– The Reggae Ride– with Flagga (Saturday 12pm-3pm) – (Miami, FL)
WHQT HOT105 – with Tanto Irie – (Saturday 10pm-3am)- (Miami, FL)
Tambourine Radio– with Ragashanti- (New York, NY)
Dance Hall Jams, Online – with Glen Blakk- (Online Radio)
WZOP 92.7 FM FLL – with Mikey Mike (Broward County, Florida)
WZOP 92.7 FM FLL – with Gary Enforcement (Broward County, Florida)
WZOP 92.7 FLL – with Sir Rockwell (Broward County, Florida)
ALT 94.9 San Diego's Alternative– with DJ Carlos Culture- (San Diego, CA)
Caribbean
WSTX ST Croix – Ras Isaiah
FAME 95FM – "Letters of Love" competition
UK
Mi Soul Radio – Natty B
Colourful Radio – DJ Sly – Soul and Reggae Sunday
New Style Radio – Warren Tone – The Dance Hall Reggae Showcase
Vybz Urban Radio – Mighty General Reggae show
France