The Second Annual Virginia Key Grassroots Festival of Music and Dance
Virginia Key Grassroots Festival of Music & Dance
February 21st-24th 2013
Historic Virginia Key Beach Park
4020 Virginia Beach Dr.
Virginia Key, Miami, Florida 33149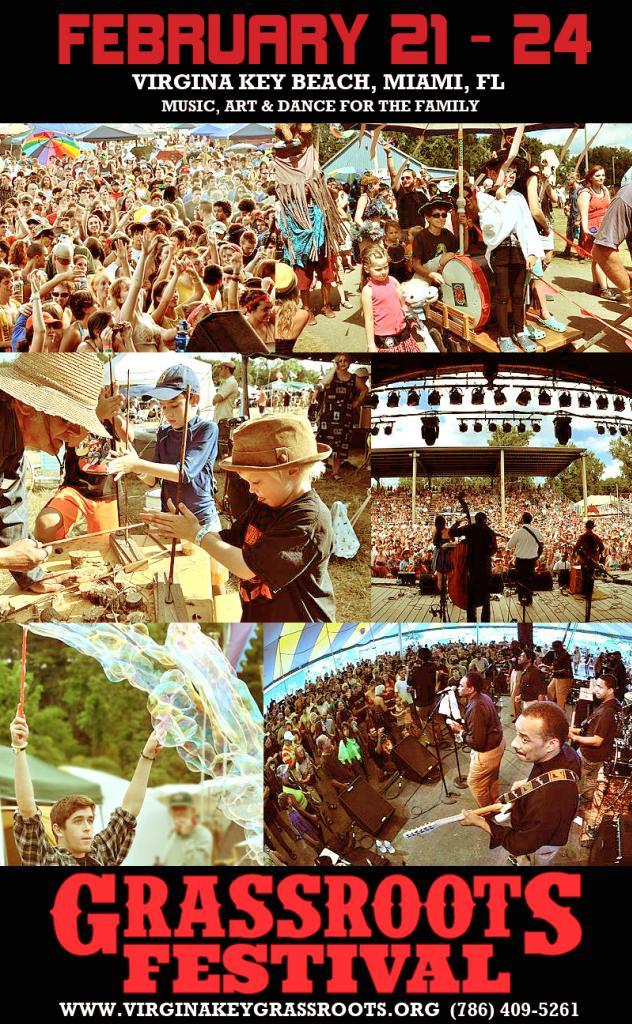 The Second Annual, Virginia Key Grassroots Festival of Music & Dance will return to Miami, Florida February 21 thru 24, 2013 at the Historic Virginia Key Beach Park. The four day GrassRoots Festival event will feature: music on four stages, on-site camping, Sustainability Fair & Expo, Kids' Area, Dance Tent, World Foods Cafe, and Zen Village Area with Healing Arts, Yoga, movement workshops, massage, meditation and crafts.
Musical highlights include: Inner Circle, Rusted Root, MC Yogi, Suenalo,
Donna the Buffalo, Keith Frank & His Soileau Zydeco Band, Spam Allstars,
Locos Por Juana, Elastic Bond, ArtOfficial, Driftwood, Johnny Dread, Revelation Mizik, Jose Conde, Keith Secola, Equanimous Minds, Osceola Brothers.
Local partners include: Virginia Key Beach Park Trust, Zen Village, Moksha Family Art Collective, and Community Arts & Culture. These organizations are working in cooperation with the GrassRoots Festival Organization to produce the 2nd annual Virginia Key GrassRoots Festival.
GrassRoots Festival Organization Inc. is a 501c3 not-for-profit corporation from Trumansburg, NY that has produced the yearly Finger Lakes GrassRoots Festival of Music & Dance. From its inception in 1991, the organization has raised over $1,000,000 for arts, education and the fight against AIDS at its summer festival events in the Finger Lakes region of upstate New York. In 2003 the GrassRoots Festival Organization expanded its operation to North Carolina with the twice yearly, Spring and Fall, Shakori Hills GrassRoots Festival of Music & Dance. The Virginia Key Grassroots Festival of Music & Dance is the winter season festival of the year-round not-for-profit music, dance and arts festival series.