The Performers For The 32nd International Reggae And World Music Awards (IRAWMA) Have Been Announced!
Over 15 Top Reggae & World Music Acts to Perform at IRAWMA
On Wednesday, April 10th voting to select the winners in the 32nd International Reggae and World Music Awards (IRAWMA) ended. At the same time, some of the performers for the glamorous awards presentation and show, set for May 4, were announced at the event's Press launch hosted by VP Records at Finger Lickin' Restaurant and Bakery in Pembroke Pines, Florida.
This Star-Studded lineup is not one to be missed.
Featuring…….
 ■ Top nominee Mr. Vegas (6 nominations)
 ■ Romain Virgo (2 nominations)
 ■ Calypso Rose (2 nominations)
 ■ Half Pint
 ■ Richie Stephens
 ■ Macka Diamond
 ■ African Soukous Star: Top One-Frisson
 ■ Mutabaruka
 ■ Haitian/Compas emerging star: J-Beatz
 ■ South Florida's rising stars & nominees: Sons of Mystro
Popular Gospel Performers:
* Rev. Dr. Norris Weir
* Second Chance
* Jonathan Laurince and True Worshippers
Additional entertainers will be announced once they are confirmed. The awards show will be hosted by Freddie McGregor and Etana.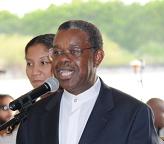 Ephraim Martin addresses media at the press launch, held at Finger Lickin Bakery & Restaurant in Pembroke Pines, Florida. The reception was hosted by VP Records. Photo credit: Uriah Bennett.
The exciting evening begins with the celebrity red carpet arrival and reception starting at 6:00pm, followed by an electrifying awards ceremony at 8:00pm.
This year's IRAWMA is dedicated to Health Awareness and some 200 reggae and world music industry individuals, groups and others were nominated in 40 categories for their accomplishments and contribution.
Lifetime/Hall of Famer awards will be presented to Derrick "Duckie" Simpson – Black Uhuru, Denver "JAMUSA" Silvera, The Honorable Edward Seaga, Lloyd Campbell of Joe Frasier Records and Inner Circle.
Martin's International-IRAWMA Award of Honor will be presented to producer Donovan Germain, event marketing specialist C. "Eddy" Edwards, controversial radio host Bevan "Duke of Earle" Earle and promoter Arthur Lugisse. The recipients for the South Florida Special Award for Extra-Ordinary Contribution to the music industry are: Willie Lindo, Vonnie McGowan, and Winsome "Lady C" Charlton.
Advance admission tickets are available online at www.coralspringscenterforthearts.com, and www.irawma.com. Tickets can also be purchased at VP Records and Brawta Caribbean Cuisine in Miramar, and Reggae and Things in Coral Springs, Florida.