The 29th Annual Reggae on the River (August 1st – 4th, 2013)
With Reggae on the River 2013 less than a month away, preparations for the August 1st -4th celebration of Reggae and World music are in full throttle daily! Here are some updates!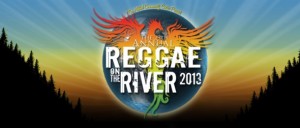 Mateel Community Center has decided to add a new allotment of RV spaces to accommodate the demand, and sales for these coveted spaces at the festival have been re-opened at reggaeontheriver.com and at the Mateel office only. Festival tickets are also available at the following outlets: Eureka – The Works; Arcata – Missing Link, People's Records; Fortuna – Fortuna Music Mart; Redway – MCC Office, Redway Liquor; Leggett – Peg House; Willits – Main Street Music, Headroom; Ukiah – Ukiah Natural Foods; Laytonville – It Takes Two To Tangle; Sebastopol – Cornerstone Reggae Culture Shop; Santa Rosa – The Last Record Store. he All of the event tickets include camping. Tickets are priced at $190 for the main 3-day festival taking place Friday through Sunday, August 2-4. There are still a few early arrival tickets that will allow access to the grounds and an extra evening of DJs and special guests on Thursday, August 1, and this 4-day pass is $250.
Our site crew has been crazy busy for the last few weeks, weed-whacking, mowing, trimming out camp spot areas, re-building the drink booth and lots of other site work lead by MCC site manager, John Jennings. The newly built bridge, a significant undertaking and major one-time cost for Mateel this year was installed two weeks ago! Thank you to all of the site crew volunteers and coordinators that made it happen!
A growing number of volunteers are signing up for ROTR. There are still more openings though for those willing to work in trade for a ticket, or just for that great feeling of being a part of something so positive in our community!
Speaking of positive community, there are over 60 vendors at ROTR this year and Mateel is so happy that several of our local non-profits are among the food booths, including the Sprowel Creek Volunteer Fire Department; EPIC, the Environmental Protection Information Center; Fruitland Ridge Fire Department; KMUD radio; Southern Humboldt Community Park; South Fork High School Booster Club; the Heartwood Institute; the Weott Tribe; Kiwanis; and the Mateel Meal, to name a few. Not only are they supporting their great organizations and keeping ROTR's festival friends fed, they're supporting the MCC Reggae fans worldwide are thrilled with the triumphant return to Reggae on the River's original French's Camp venue, located just north of the Humboldt County line near Piercy, CA. on Highway 101.
Stay tuned to the festival website at www.reggaeontheriver.com for all the details on the music including Julian Marley, Kabaka Pyramid, Junior Kelly, Morgan Heritage, Tarrus Riley and more! Also on our website are weekly "throwbacks" with film footage and audio from past ROTRs. Looking forward to this very special return of Reggae On The River to French's Camp! Hope to see you there!