Kick Dem Records Serves Up Debut Album, 'Dancehall Party Riddim'
New York, NY – Jamaica's newest hit maker Kick Dem Records dishes out their debut album Dancehall Party Riddim, on July 23, 2013, with pre-order available today, July 8, 2013. The album will be available worldwide from all major digital retailers and is distributed by FOX FUSE. Dancehall heavyweights like Demarco, T.O.K., Ward 21, Macka Diamond, Leftside, Kiprich and others anchor the 18-track riddim compilation, which is destined to stay atop party playlists in dance halls around the world.
Kick Dem Records was formed just over a year ago with producers Jermaine "ZJ Bruce Lee" Bennett and William "Kris Beatz" Murray at its helm. The label also houses upcoming dancehall artists Oshane "Khaos" Logan and Rushell "Jnesis" Wright. ZJ Bruce Lee had previously released the Wappings Riddim through Truckback Records, before turning his talents into creating his own label. Now, Kick Dem Records is proud to present eight months of labor and creativity with the Dancehall Party Riddim.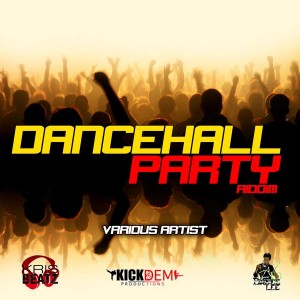 "With this riddim album, we intend to show the world that Kick Dem Records is here to bring back dancehall music in its real and ultimate form, for the whole world and future generations to enjoy," states ZJ Bruce Lee. "I wish to thank all the members of Kick Dem Records, as well as all artists who made the Dancehall Party Riddim possible." ZJ Bruce Lee has his fingers on the pulse of dancehall music, as he is a leading disc jockey on Jamaica's hit station, ZIP 103 FM, spinning dancehall hits daily for his audience tuning in at home and overseas, via ZIP's popular online stream. Thus, many singles from the riddim are already enjoying rotation in Jamaica and the momentum now continues with its global release.