TASTE OF JERK MARKS OFFICIAL LAUNCH OF GRACE JAMAICAN JERK FESTIVAL NY SATURDAY EVENT FEATURED PRESS CONFERENCE, LIVE REMOTE AND MORE
The Grace Jamaican Jerk Festival held their annual Taste of Jerk kick-off event at the VP Records Retail Store in Jamaica, Queens. With special appearances by reggae band New Kingston and Jamaican, London born actor Duane Henry of hit show NCIS, the event was a great way to officially launch the countdown to the 2018 Grace Jamaican Jerk Festival New York. The event is held yearly as the official media launch to inform the public of the various performers, food vendors and entertainment they can expect at the festival taking place Sunday, July 22nd at Roy Wilkins Park in Queens from 12-8pm.
The press conference started with a presentation by Grace Jamaican Jerk Festival producer and Director of Business Development of VP Records Richard Lue and owner of VP Records Patricia Chin. Additional remarks from Neil Curtis of Farm Up, a new vendor this year brought a sample of their farmers market specializing in home grown fruits and vegetables with amazing benefits. Sponsor Sean Bacchus, VP Retail business banking of HSBC concluded the conference with his remarks.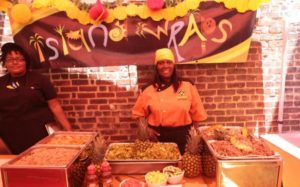 Media and special guests then enjoyed jerk chicken, festival, salad and more from vendors Island Wraps from Rochester NY, Sunrise Cuisine from Stamford CT and T&G Flavors from Queens NY to get a taste of what is to come during the actual festival.
The hot sunny day continued with a live remote by Irie Jam Radio, from 2-4pm and Reggae King Radio from 2-5pm. Attendees were also entertained with a special surprise performance by New Kingston along with a chance to meet the four-piece band.Tasty treats by vendors and sponsors were provided for non-media guests as well as a mini kids zone face painting area.
This year's New York Jerk Festival will include performances by energy God Elephant Man, African sensation Patoranking and "Walking Trophy" artist Hood Celebrityy. Other performers include LU.S.T., Jahmiel, New Kingston and Braata Folk Singers.