Soundboy Records Drops Two Hip-Hop Jams from CRUSH A.D
Trinidad and Tobago-based Soundboy Records drops two new hip-hop jams from CRUSH A.D with "Darin" and "Do What You Want," both now available worldwide from all major digital retailers, from FOX FUSE. Released by Ray Roopnarine for Soundboy Records, the tracks were recorded at the CRUSH A.D Studio in Trincity, Trinidad and mixed and mastered at Soundboy Records Studio in Concordia, Tobago
CRUSH A.D is a hip-hop trio hailing from Trinidad and members Billy Cassanova, Bones One'r and Seconds have been crushing the urban music scene at home for ten years now. Their unique, Caribbean-flavored sound merges pop with rap and hip-hop, a style that has made them irresistible to fans. "Soundboy Records is pleased to release these two tracks from CRUSH A.D, and they are all new and original, for your listening pleasure," states Roopnaraine.
Roopnarine has been crafting hits since 2007 for his own production house Soundboy Records, and brimming with local and international flavors, these new releases for CRUSH A.D are sure to satisfy hip-hop aficionados at home and beyond.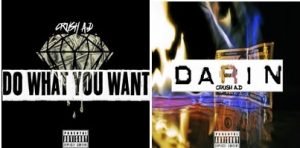 Please direct all press inquires to the FOX FUSE Publicity Department at 1-212-300-3813 or contact@foxfuse.com.