SAVOR THE ISLAND FLAVOR THIS SUNDAY AT THE 2018 GRACE JAMAICAN JERK FESTIVAL
With a few days away from the 3rd Annual Grace Jamaican Jerk Festival in Washington, D.C., on Sunday June 10th, anticipation is building as patrons prepare to not only feast on delicious jerk cuisine but also immerse themselves in Caribbean culture as they enjoy a variety of entertainment scheduled for this year.
Along with the entertainment, the faces for this year's celebrity Quick Fire Cook-off have just been announced and there will be no shortage of excitement with big personalities Elephant Man and DJ Ricky Platinum competing in the Shoppers Culinary Pavilion for bragging rights."I'm honored that Jerk Fest wants me to participate in the Celebrity Cook-off. My skills in the kitchen aren't as good as on the turntables, but I'm bringing my 'A' game. I hope Elephant Man ready for this," stated DJ Ricky Platinum, who is excited about participating in the Quick Fire Challenge and is confident that he can hold his own in the culinary arena.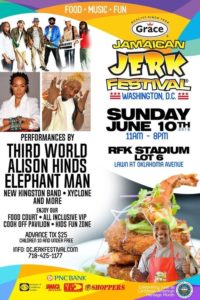 Also at the Shoppers' Culinary Pavilion will be cooking demonstrations and tastings by Chef Irie, host of Taste the Islands television show on PBS while Washington, DC's own Chef Giovanni Merle and Chef "Jumoke" Jackson will showcase tasty recipes.
On the musical side, Dancehall sensation Elephant Man will deliver his high-energy performance on the main stage, engaging the audience and get the crowd moving. Reggae Ambassadors, Third World, are sure to delight patrons with their string of popular hits and reggae classics. Soca Queen Alison Hinds, known for party anthems, will electrify the crowd by bringing a taste of carnival to the festival. On the other spectrum, reggae band New Kingston will add a taste of roots rock reggae to satisfy the masses.
Along with his competitive role in the Celebrity Quick Fire Cook-Off, DJ Ricky Platinum will add even more flavor to the festival's extensive entertainment package with a selection of dance hits and club favorites between sets. Veteran radio personality, Tony Carr, host of "This is Reggae Music" along with Ragashanti, of Tamborine Radio" will perform MC duties. This year, the main stage will open with cultural presentations from some of DC's leading groups such as The Malcolm X Drummers and Dancers, led by Doc Powell, storyteller and author, Joelle Wright, as well as Divine Divas, a motivational modelling group of teens and children. Sounds of Culture will present traditional Jamaican folk and mento songs while recording artist and influencer Xyclone will bring a reggae/Dancehall flavor. Popular DC-based MC, Michael Campbell will host this segment and engage the audience with his witty and humorous style.
There's also a Kids Zone offering face painting, rides and storytelling. Patrons can stroll and discover unusual novelties, trinkets and their island t-shirts from a number of arts and crafts vendors willing to offer bargain prices for their wares.
Held during National Caribbean American Heritage Month, the festival is scheduled for Sunday, June 10, 2018 from 11am to 8pm at RFK Stadium, Festival Lawn at Oklahoma Avenue, Lot 6. Tickets are $25 general admission; $125 for VIP, offering an all-inclusive food and premium drink experience with convenient access and front of stage viewing area, can be purchased at DCJerkFestival.com or at local authorized ticket outlets throughout the DMV. Special discount for military and students with I.D., available online.
The 3rd Annual Grace Jamaican Jerk Festival DC is presented by Jamaican Jerk Festival NY, LLC, in association with the Institute for Caribbean Studies with support from the Mayor's Advisory Commission on Caribbean Community Affairs. Sponsors are Grace Foods, Shoppers Supermarkets, VP Records, Giant Foods and Ablazin Radio.