ESTELLE'S ROCKS BROOKLYN WITH PERFORMANCE AND RECEIVES KEYS TO THE CITY
Last night, multiplatinum GRAMMY® Award-winning artist Estelle performed at the Wingate Concert Series at Wingate Park in Brooklyn for their Afro-Caribbean Night. She performed a 40 minute set of hits like "Come Over", "Thank You", "Conqueror" and "American Boy." She also performed songs "Love Like Ours" and "Better" from her upcoming project "Lovers Rock" out September 7th.
After her performance, Brooklyn Borough President Eric L. Adams, honored her with an award and the keys to the city of Brooklyn. Estelle shared her sentiments by expressing that Brooklyn was her first home for twelve years when she moved from London to the states.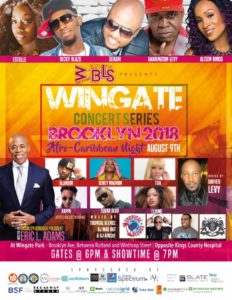 Also performing yesterday was Tifa, Serani, Alison Hinds, Barrington Levy and much more.